Week by week pregnancy guide: 37 weeks pregnant
A need-to-know guide...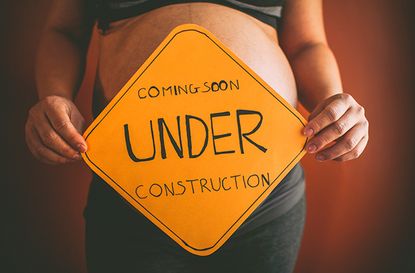 You're now 37 weeks pregnant but what should you expect? Read week 37 of our week by week pregnancy guide to find out everything you need to know...
There are lots of things to think about during your pregnancy, week by week (opens in new tab) things keep adding to the list, too!
Here's a round up of the most important facts for when you're 37 weeks pregnant...
Swipe to scroll horizontally
37 weeks pregnant: Symptoms
Got a sudden urge to bake a cake, clean the kitchen cupboards, or to clear loads of stuff to the charity shop? That'll be your nesting instinct. Instead of gathering twigs, you're setting your house in order in readiness for your new arrival. You may swing from feeling very tired to having sudden bursts of energy.
37 weeks pregnant: Fetal development
Your baby will now measure about 47cm, weigh 6lbs and is considered full term, so could be born at any time -eek! Most of the slippery vernix that coated and protected their skin will have washed off, but they'll have enough left to help them slide down the birth canal.
Australian researchers suggest it's the baby who kick-starts labour. Lack of space makes him produce stress hormones which trigger a chain of biochemical reactions...which eventually trigger labour.
In week 37 of your pregnancy the baby's head normally engages. This means their head will move down towards your pelvis ready for the birth.
37 weeks pregnant: The changes you should make
It's a quiet week for hospital appointments so make some salon appointments instead. You might want to treat yourself to a little pre-natal pampering as it's a great distraction and will help to relax. When the baby comes you may not have as much time for self-care so indulge a little now, maybe get your nails done or your haircut!
Do a big online grocery shop and get it home delivered. Make sure you stock up on plenty of tinned and packet goods, healthy snacks and a good supply of frozen meals for the first weeks at home with your baby... and don't forget the nappies!
Don't leave anything to chance. Practice your drive to the hospital in rush hour and at weekends. You don't want to be caught unawares by any temporary lights or road works...
Rosie is an experienced food and drinks journalist who has spent over a decade writing about restaurants, cookery, and foodie products. Previously Content Editor at Goodto.com and Digital Food Editor on Woman&Home, Rosie is well used to covering everything from food news through to taste tests. Now, as well as heading up the team at SquareMeal - the UK's leading guide to restaurants and bars - she also runs a wedding floristry business in Scotland called Lavender and Rose.