'I will not be blamed for his death' Kerry Katona breaks down in tears as she discusses ex-husband George Kay's death for the first time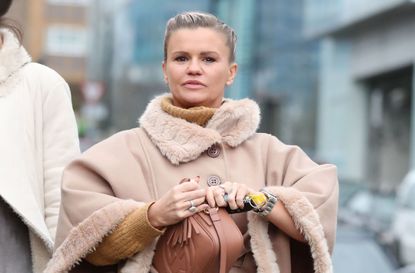 GoodTo newsletter
Sign up to the GoodTo Newsletter. You can unsubscribe at any time. For more information about how to do this, and how we hold your data, please see our privacy policy
Thank you for signing up to . You will receive a verification email shortly.
There was a problem. Please refresh the page and try again.
On Wednesday, Kerry Katona appeared on Loose Women and broke down in tears when she discussed former husband George Kay's death.
George Kay passed away from a suspected drug overdose in July, and Kerry Katona appeared on the panel show to speak about the aftermath.
Speaking to the panel, Kerry said, "I feel really overwhelmed. The kids are doing really well. It was the hardest conversation I ever had to have with a five-year-old."
Kerry has four children from her previous marriages - Molly, Lilly-Sue, Heidi and Maxwell.
She also has one child, a daughter called DJ, with George Kay.
Kerry confessed that she knew what had happened before her agent had rang, saying, "You're calling to tell me George is dead aren't you?"
She added, "I rang home and asked Lily to lock the door. I told Ryan they're ringing to tell me George's dead. It was accidental overdose. He didn't kill himself, he was too vain."
Kerry also revealed how she'd "found comfort in God: after George's passing, telling the panel, "It's really empowering".
READ MORE: Kerry Katona defends daughter Lilly-Sue after she revealed 'controversial' decision
Kerry then confessed that George had "many issues", but went on to say, "By the time I'd worked all these issues out, I was already madly in love with him, we had a baby on the way.
"We've known each other since we were 14. I always fancied him. He always fancied me - and when the violence started it's like you're being groomed. Everyone tells you to walk away but you can't."
Kerry also explained she'd suffered domestic abuse at the hands of George, "When I got a good hiding, I'd apologise to him.
"I feel guilty that DJ didn't get to see her dad for a year, I really do. I'm not slagging him off, I would hand DJ over and I'd fear I wouldn't get her back."
She admitted that DJ started to pick up bad habits from her dad, saying that George would spit in her face, and then their daughter started to do the same.
Kerry Katona told the Loose Women panelists that she had to end things with George for the sake of her children. She added, "Any decent mother, you would not allow your child to be around somebody who was abusing drugs."
She also revealed she had felt a lot of anger, adding, "I'm so angry that he left his baby girl, she's beautiful. Everyone kept asking me how I was feeling, I was so angry."
Kerry has hit back at media reports aimed at her, saying, "I will not be blamed for his death".