A viral photo shows how a woman's bones move during labour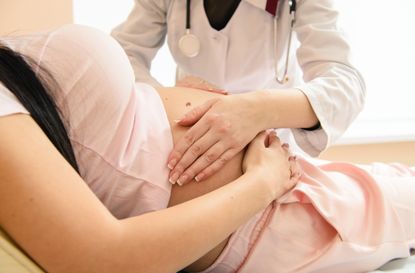 (Image credit: AlexLypa.com)
GoodTo newsletter
Sign up to the GoodTo Newsletter. You can unsubscribe at any time. For more information about how to do this, and how we hold your data, please see our privacy policy
Thank you for signing up to . You will receive a verification email shortly.
There was a problem. Please refresh the page and try again.
Childbirth can be scary for many expectant mums, and it's incredible just how much the human body can change.
You may or may not know that bones actually move during labour, but a recent photo from North Dallas Doula Associates has explained exactly why it happens.
Taking to Facebook, they uploaded a photo of a woman in labour, where you can see a bulge in the woman's lower back.
They wrote, 'Can you see that bulge on her lower back? That is the rhombus of Michaelis.'
Explaining why this happens, they said, 'During the second stage of labour, a combination of bones including your sacrum actually move backwards and in doing so, increases the diameter of your pelvis.'
They added, 'This is what is known as opening of the back. This is completely normal and is in fact an integral part of a physiological birth as it allows your baby the maximum amount of space to turn as they navigate their way out into the world.'
Read more: Signs of labour: Our guide on how to spot labour signs
https://www.facebook.com/tangibirthservices/photos/a.2489558557929729/2489558527929732/?type=3
They then went on to explain the birthing position shown in the photo, writing, 'In order to facilitate the opening of your back, you should use active birth positions where you are upright and leaning forwards. And while your pelvis is expanding, your baby's head is moulding - changing shape to fit through those pelvic bones!'
Reassuring any readers, they concluded their post by saying, 'Your body was made to do this! And your body and your baby work together! Birth is not something to be feared...it is something to be understood!'
Read more: Home births, hospital births and birthing centres: Your options explained (opens in new tab)
The post has received over 42,000 reactions and 22,000 comments, with many mothers sharing their experiences.
One wrote, 'This makes so much sense why my back pain has been so excruciating during both my labors, I was on my back to deliver both. This third baby I'm going to get off my back and hopefully I'm in less pain.'
Another revealed they had a friend who delivered in this position, saying, 'It was truly amazing! I was lucky to be her doula (opens in new tab). The nurse came in and said, "she can't labor like that". Oh yes she can and she did!'
The centre shared this photo to erase the stigma around childbirth, and to provide more education to both mothers and non-mothers alike.
Did you know that bones can move during labour?