Milla Jovovich has revealed she and her husband Paul W.S. Anderson still share a bed with their two children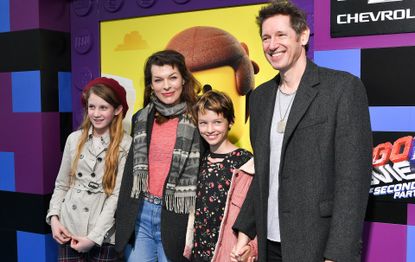 (Image credit: Rob Latour/REX/Shutterstock)
Actress Milla Jovovich says family co-sleeping has improved their relationships.
Co-sleeping (opens in new tab) is a hot topic amongst new parents, with experts suggesting that babies should sleep in the same room as their parents – but not the same bed – for at least the first six months.
But Milla Jovovich and her husband, film director Paul W.S. Anderson, seem to have taken things to the extreme.
In an interview on U.S. TV show The Wendy Williams Show this week, Milla revealed that she and Paul still sleep in the same bed as their two daughters, the eldest of whom is 11 years old.
Milla and Paul share a super-sized bed, which is made up of a king size bed and a double bed pushed together, with their children Ever Gabo, 11, and Dashiel Edan, four.
'I feel like 95 per cent of the world, people sleep together with their kids,' Milla pointed out. 'Thailand, Indonesia, Africa – people do! So for us, it works!'
The actress explained that because she and Paul often spend long days working on film sets, they don't always get much time to connect as a family during the day.
'We're working 15 hours a day,' she admitted. 'We get to see the kids at lunch, but we don't get that time to connect. So sometimes nighttime is the time of day to reconnect.'
In an interview with Romy & the Bunnies a few years ago, Milla revealed that she had been 'inspired' by the connection between mothers and children in third-world countries, saying that she 'always thought that the Western way of raising kids was so disconnected'.
Milla even suggested that co-sleeping could help to prevent behavioural problems.
'There is an innate sense of respect between us all that I feel can be lacking with some of the other parents and children I see in our society,' she said.
'I feel that some problems that parents say are "typical" i.e. arguing, defiance, tantrums, interrupting, disrespect, disobedience, screaming etc. we just haven't had to deal with in any serious way!'
But she also admitted that the arrangement threw up some challenges, with poor Paul often 'falling down the crack' between the two beds and their eldest daughter 'threatening to go to her own room at some point'.
The actress also revealed that she and Paul spent one night a week in a hotel to 'have some adult time together,' joking that 'when you share a bed, you've gotta get creative about, you know, how you're gonna make the next baby!'
What do you think about the arrangement? head over to our Facebook page and share your thoughts.
Samantha is a freelance writer at Goodto who has been with team since 2019. Initially trained in psychology, she specialises in health and wellbeing and has additionally written for magazines such as Women's Health, Health & Wellbeing, Top Santé, Healthy, Refinery29, Cosmopolitan, Yahoo, CelebsNow, Good Housekeeping and Woman&Home.