Parents are using the 'most relaxing song ever' to get their babies to sleep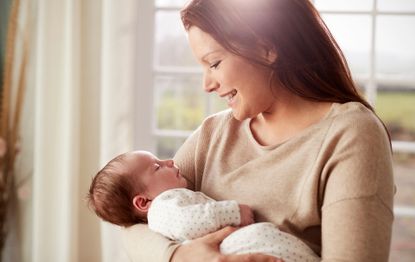 (Image credit: Monkey Business Images/REX/Shutt)
Desperately seeking a way to send your little angel off to the land of nod?
It's not always easy to get little ones to settle and go to sleep, especially when it seems like they enjoy resisting the urge to close their eyes.
But if you're in need of extra help, you'll be pleased that scientists have officially revealed what the world's most relaxing song is.
The experts at Mindlab International announced that it was Weightless, by Marconi Union, that took the crown for its relaxing properties, and we can see why.
The eight-minute ambient tune was made in collaboration with the British Academy of Sound Therapy. It combines a low pitch, calming melodies and a heartbeat-like rhythm with gentle chimes and nature sounds, and is said to induce a trance-like state.
https://www.facebook.com/balanceLDN/videos/2044913282389086/
The structure, types of sounds and musical key used in the song were all specially designed to relax listeners and encourage sleep (opens in new tab).
In research studies, listening to Weightless lowered resting heart rates by an average of 35 per cent. The song also reduced anxiety by an impressive 65 per cent.
Although the song hasn't been tested on infants, several enterprising parents have decided to give it a go. And they've taken to Twitter to share their success stories.
'Experiment worked like a charm,' said one. 'Insomniacs download Marconi Union's song Weightless and sleep like a baby. Worked on my 9 month old son.'
'Just played Weightless by Marconi Union to get a restless baby to sleep and it WORKED,' agreed another.
'Seriously, if you need help getting a baby off to sleep, this track is AMAZING! WEIGHTLESS – Marconi Union,' another added.
If you fancy expanding your playlist, you could also give Silence & Air's song Zero Point Lite a go, another track that was co-created by the British Academy of Sound Therapy.
But there's still something to be said for a good old-fashioned lullaby. Researchers say that a sleep routine that includes mummy or daddy singing a lullaby, as well as a bedtime bath and massage, encourages babies and toddlers to fall asleep faster and stay asleep for longer.
Listening to lullabies has been found to reduce heart rate and pain levels in infants, too.
We'd recommend keeping this track up your sleeve as well though – just in case.
Samantha is a freelance writer at Goodto who has been with team since 2019. Initially trained in psychology, she specialises in health and wellbeing and has additionally written for magazines such as Women's Health, Health & Wellbeing, Top Santé, Healthy, Refinery29, Cosmopolitan, Yahoo, CelebsNow, Good Housekeeping and Woman&Home.