Mother unwittingly shares hilarious snap of wardrobe she was selling but can you spot what's wrong?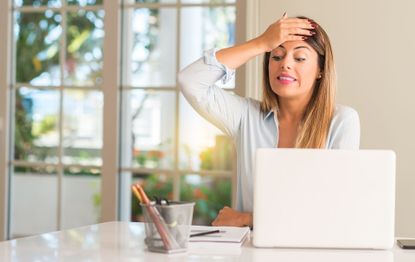 (Image credit: Getty)
A mother has unwittingly become a viral sensation after her daughter posted a picture social media of a hilarious blunder she made.
Twitter user Sophie Eke posted an image that her mother, Julie, used to promote a set of wardrobes that she was trying to sell.
Julie took the seemingly innocent and posted it online with an advert for the bedroom furniture that she was trying to get rid of.
However, what she didn't notice at the time, was that the reflection in the mirror revealed a little more to buyers than she wanted to.
Obviously topless when she took the photo, Julie accidentally captured a shot of her bare chest in the reflection of the mirror!
Her mishap was pointed out by a potential buyer, who dropped her a message as soon as she noticed the amusing oblivious addition to the furniture advert.
'Hi Julie I don't mean to sound rude but just thought I'd let you know as I noticed straightaway,' wrote the potential buyer.
'The photo you uploaded of the wardrobes, I'm unsure if its what I think but it seems that there is some boobs in the mirror! Sorry but just wanted to let you know'.
A 'mortified' Julie responded saying she thinks she 'will have to delete the whole post', presumably to save her further embarrassment.
However, after hearing of the hilarious story, her daughter Sophie couldn't help but post it on her Twitter page for her over 6,500 followers to enjoy.
'Nice one mum,' she wrote. 'Can't believe my mum has uploaded a picture of a wardrobe she's trying to sell and a lady has had to message her telling her you can see her boobs in the mirror – funniest thing I've ever seen'.
More than 800 users commented writing how hilarious they found the situation and the post was shared more than 24,000 times and has accrued nearly 100,000 likes in less than three days.
It's safe to say this mum will look more carefully at her photos from now on!
Aleesha Badkar is a lifestyle writer who specialises in health, beauty - and the royals. After completing her MA in Magazine Journalism at the City, the University of London in 2017, she interned at Women's Health, Stylist, and Harper's Bazaar, creating features and news pieces on health, beauty, and fitness, wellbeing, and food. She loves to practice what she preaches in her everyday life with copious amounts of herbal tea, Pilates, and hyaluronic acid.