Mum sparks debate by admitting she has a favourite child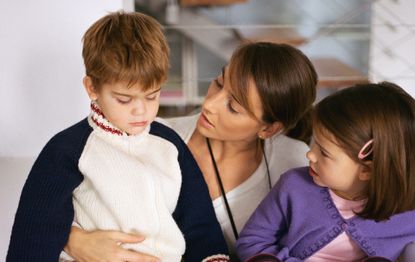 (Image credit: Photoalto/REX/Shutterstock)
The woman's shock confession sparked a heated debate amongst other mums.
The mum-of-two took to Mumsnet to admit that she had a favourite child and asked whether other mums felt the same.
'I am ashamed to say this…' she wrote, 'but I really do have a favourite child.'
The woman explained that she had two sons, one aged three and one aged 18 months. 'The oldest is a real struggle for me and has been from day one,' she continued. 'He is intense and determined and he really overwhelms me.'
While she said that her husband has 'a great bond' with their eldest child, she confessed that she feels a much stronger bond with their youngest.
'I really enjoy my second son,' she wrote. 'I feel like I understand him perfectly and I am 100% the most qualified to care for him in any situation.'
She went on to say that while she is trying 'really hard' to conceal her feelings by taking her older son out with her and organising playdates for him, she still feels 'like I am trying to force a bond I just can't make.'
'My own mother was cruelly unfair to my older sister and I really thought I could be a bigger person,' she concluded. 'Has anyone else ever felt like this?'
Some commentators were horrified by the woman's frank confession. 'Oh god this thread is scary. Those poor babies. "Oh but I don't show it" – yes you do,' one user replied.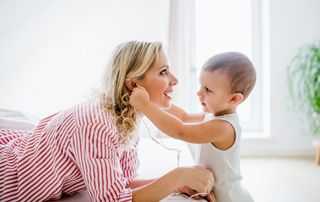 But others took the opportunity to admit that they also had a favourite child.
'I love my two oldest teens to bits,' said one. 'They are kind, caring, funny and good company. My youngest, however, is nothing like any of us and I don't really like him very much.'
'Sad to say yes I do,' another agreed. 'I do feel so sad and guilty but am hoping this is just a phase?'
'It may change as they age,' another suggested. 'My second was a fractious baby and toddler while her sibling remained sunny and sweet. Had you asked me back then I would have had to admit number one was my favourite. Now number two is an amazing, funny, smart, kind and passionate child and I adore her. I love all my kids unconditionally but number two is something really exceptional.'
Several commentators suggested that the woman should seek help.
'Some of the most "damaged" people I know have parents who had or still have a favourite… and not all of them are the least favourite child, it affects the favourite as well,' said one.
'Seek help, all the children involved will be aware when they're old enough no matter how much you think you hide it.'
But others advised the poster not to worry. 'I personally wouldn't beat myself up about it,' said one.
'There are always people you "bond" better with due to personality etc. If it doesn't come naturally, then do exactly what you are doing and purposefully make time even if you don't feel like it.'
'Some kids aren't as "likeable" as others but that doesn't mean you don't love them all,' said another, adding, 'I have always told my kids that whoever has last made me a cup of tea is my favourite. It means there is less confusion.'
What do you think about the mum's comments, can you relate? Head over to our Facebook page and share your thoughts.
Parenting advice, hot topics, best buys and family finance tips delivered straight to your inbox.
Samantha is a freelance writer at Goodto who has been with team since 2019. Initially trained in psychology, she specialises in health and wellbeing and has additionally written for magazines such as Women's Health, Health & Wellbeing, Top Santé, Healthy, Refinery29, Cosmopolitan, Yahoo, CelebsNow, Good Housekeeping and Woman&Home.