Mum 'doing well' after giving birth to seven babies naturally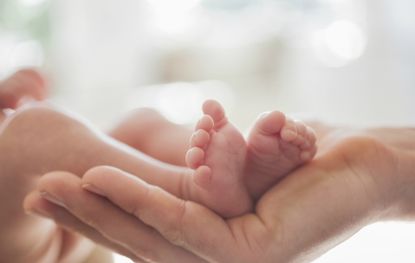 The woman and her husband have welcomed six girls and a boy into their family after the natural delivery.
A woman has given birth to Iraq's first ever set of septuplets.
The mother is reportedly doing well and all seven babies are said to be in 'perfect condition' following the natural birth.
A local health department official released a statement to confirm that all seven of the infants, six girls and one boy, had undergone medical check-ups and are in good health.
Read more: Woman miraculously gives birth to naturally conceived twins and IVF baby at the same time
The labour took place at a hospital in the Diyali Province of eastern Iraq, and comes one year after a mother in Lebanon gave birth to sextuplets.
The mother, who is 25-years-old, has not yet been named, however the septuplet's father has been identified as Youssef Fadl.
Local media have published images of the infants, who are being celebrated nationwide:
The couple, who already have three children, have now had their family expand to a grand total of 10 children as a result of the miracle birth.
When asked by local media whether he and his wife were considering having anymore children, Youssef told them that they weren't.
Septuplets are incredibly rare, with the world's first set of septuplets known to survive being born in Des Moines, Iowa, in 1997 to Kenny and Bobbi McCaughey.
Read more: Women share their birth stories using #SoProud because every birth should be celebrated
The children, Joel, Nathan, Kelsey, Natalie, Alexis, Kenneth and Brandon McCaughey celebrated their 21st birthday last November.
People have, of course, taken to Twitter to share their own reactions to the astonishing story, with one user praising the young woman's strength: 'Jezzzz superwoman.'
Another Tweeter took a moment to clarify one quite unbelievable key fact of the story with this simple question: 'Did you say natural?'
And one user reflected on just how incredible the female body is: 'as a man I can only emphasize with her, the pain. Women are just the best'
Too right!!!
Parenting advice, hot topics, best buys and family finance tips delivered straight to your inbox.
Freelance Lifestyle Writer
Niamh McCollum is a freelance lifestyle writer who has written for Future titles GoodTo and Marie Claire UK, plus the Irish Independent. The Dublin-based journalist specialises in stories
affecting families - from health updates, to the freshest parenting debates and celebrity announcements.