Woman miraculously gives birth to naturally conceived twins and IVF baby at the same time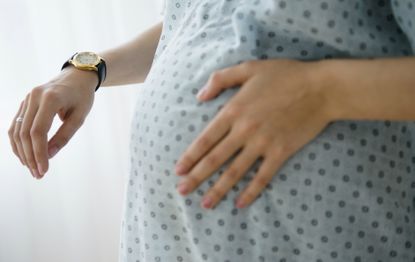 A mum-to-be was unknowingly pregnant when she underwent IVF embryo transfer, turning her family of two into five.
In the most incredible of circumstances, a woman has given birth to a set of twins and her IVF baby at the same time.
Beata Bienias spent a decade trying for a baby before she decided to opt for IVF treatment and arranged to undergo an embryo transfer.
The 36-year-old from Wiltshire had not realised, however, that just days before the long-awaited transfer, she had actually conceived twins naturally.
Couple reveal heartwarming IVF success with viral picture after four year struggle (opens in new tab)
The IVF cycle was also a success, meaning that Beatna ended up conceiving her three babies at once.
https://www.facebook.com/photo.php?fbid=2117236838336497&set=a.473672439359620&type=3
Beata and her husband, Pawel, welcomed Amelia, and twins Borys and Matylda on 13 December 2018. They were born by c-section at Royal United Hospital in Bath.
Speaking of her initial struggle to conceive, Beata told the Metro: 'I spent many days thinking that maybe I was the person who would never have a baby.'
'I never, ever thought there would be three in there. I still can't quite believe it when I look at the three of them. I'm so happy'
https://www.facebook.com/photo.php?fbid=2117236858336495&set=a.473672439359620&type=3
Beata had her embryo transfer scheduled for 2 May 2018, and spoke about her joy upon discovering that it had been successful:
'They tell you to wait for 14 days before taking a pregnancy test, but I couldn't wait, and I did one after nine days.'
'When I saw those two lines, I went out and did about five or six more tests, just to make sure. It was just amazing.'
Mum of triplets praised after sharing pictures of her post baby body (opens in new tab)
Beata and Pawel, however, had no idea that she had two other little buns in the oven, and it wasn't until her first scan that they made this colossal discovery.
Beata said: 'She told us there were three babies on the scan. It was the biggest miracle. I am enjoying everything. I feed them nearly every three hours, and I go for walks with them every day.'
She continued: 'My husband is absolutely proud of his three babies, and cuddles them every day when he gets home from work. I had no idea what to expect from being a mum-of-three all of a sudden. But I'm so happy.'
Good things do come in threes, after all.
Freelance Lifestyle Writer
Niamh McCollum is a freelance lifestyle writer who has written for Future titles GoodTo and Marie Claire UK, plus the Irish Independent. The Dublin-based journalist specialises in stories
affecting families - from health updates, to the freshest parenting debates and celebrity announcements.