Exhausted mum-to-be shares viral post of this hilarious wardrobe malfunction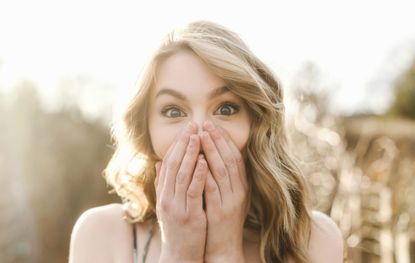 Notice anything strange about this outfit?
We've all experienced the odd fashion malfunction when we've been tired. Maybe, for example, you've left the house in a rush with your jumper pulled on backwards, or looked down in work to see that your zipper wasn't all the way up.
Now, what about those of us who are feeling constantly tired, nauseous and carrying about 20 extra pounds of weight? These extra factors might make pregnant women more likely to fall victim to trivial fashion errors, but mum-to-be Lori Farrell's viral post has proven that you can actually kind of pull them off?!
In a post that has since gone viral, the pregnant lady took to Facebook to share a photo of her fashion mishap: mistakenly wearing a baby car seat cover as a skirt.
Lori Farrell was in a rush for work, and pulled on what she thought was a black and white striped maternity skirt, only to realise her mistake later on when she googled the name of the 'skirt' brand on a computer in work.
https://www.facebook.com/photo.php?fbid=10100779970969256&set=a.538463094016&type=3
Captioning the photo, the mum-to-be wrote: 'If you feel like a failure today, just know that I wore a car seat cover a friend gave me because I thought it was a skirt.'
Lori's post, which has been shared as many as 64,000 times, has been inundated with comments from fellow mums who found her mistake to be hilariously relatable, with several people tagging their friends accompanied by a comment along the lines of, 'this is something you would do lol'
Many users even agreed that the car seat cover doubled as a pretty fashionable wardrobe staple, with one woman commenting: 'Love things that serve a dual purpose.'
Another user made this very valid point: 'This makes you a genius. Any mum who can make multiple uses out of things before and after babies is a win.'
While this woman was the ultimate cheerleader: 'Who cares! You look fab.'
Read more: This mum discovered her dress looked VERY rude after she bought it
How did this glorious fashion accessory come to be, you ask? Lori explained to Motherly that her friend had given her a pile of baby stuff - including clothes, blankets and a baby carrier.
Discussing her discovery of the baby car seat cover, Lori said: 'When I pulled it out I was not sure what it was.'
'I debated it but washed it anyway then decided because of the way it pulled on the side it must be a maternity skirt.'
'When I got to work I Googled the brand (Itzy Ritzy) and realised not only do they not sell clothing but it was a car seat cover.'
In the words of her kind Facebook supporter: 'Who cares!' - it looks cute!
Case closed.
Have you ever had a funny wardrobe malfunction when pregnant? Head over to our Facebook page and share your story!
Parenting advice, hot topics, best buys and family finance tips delivered straight to your inbox.
Freelance Lifestyle Writer
Niamh McCollum is a freelance lifestyle writer who has written for Future titles GoodTo and Marie Claire UK, plus the Irish Independent. The Dublin-based journalist specialises in stories
affecting families - from health updates, to the freshest parenting debates and celebrity announcements.