This mum discovered her dress looked VERY rude after she bought it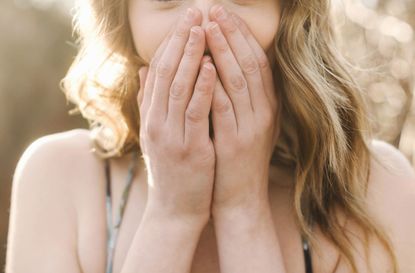 GoodTo newsletter
Sign up to the GoodTo Newsletter. You can unsubscribe at any time. For more information about how to do this, and how we hold your data, please see our privacy policy
Thank you for signing up to . You will receive a verification email shortly.
There was a problem. Please refresh the page and try again.
This proves it always pays to check in the mirror.

We've all experienced shopper's remorse. When we've gone out and been open to spending a bit of money on a shopping trip so end up making a slightly dicey purchase, only to get home and realise it looks worse than a bin bag.
So back to the shops it is.
But this story takes the term wardrobe malfunction to another level. One unsuspecting mum got home from what she deemed a successful shopping trip and was so happy with her purchase she decided to try it on for her husband.
Nothing wrong with a little post-clothes haul fashion show right? Well while the unassuming mum was parading around in her brand new purchase, her husband couldn't help but notice the slightly dodgy design.
Yep. The very pink dress seemed to be adorned with what looks like, ahem… a woman's vagina.
Rather than cowering in embarrassment, the mum in question rocked the look and posted a picture up on Instagram with the caption: 'So I bought this dress today from Myer because I really liked it … I got home and put it on for hubby and any guess first thing he said?? #dressfail #onceyouseeyoucantunsee #everydaystyle #whatiamwearing #vaginadress'.
Instagram users went crazy finding the dress absolutely hilarious.
While some loved the dress commenting: 'I love it…', 'Still looks gud 2 me babes x', 'Pretty in Pink, of course!', 'Yep first thing I noticed too! But pretty colours :)' and 'I want this dress in my life', others were a bit shocked.
Some commented: 'Oh no!', 'Wow, vagina dress!!' and 'It's got a lot of pink bits'.
Of course there were those who didn't even realise the unusual design: 'Oh I didn't even notice that hahaha', 'Ahaha I didn't even notice at first' and 'Hahaha totally wouldn't of noticed if I didn't read the caption! You look stunning though'.
So a valuable lesson for everyone – check the mirror first. Or just go with it and rock the unconventional!
Aleesha Badkar is a lifestyle writer who specialises in health, beauty - and the royals. After completing her MA in Magazine Journalism at the City, the University of London in 2017, she interned at Women's Health, Stylist, and Harper's Bazaar, creating features and news pieces on health, beauty, and fitness, wellbeing, and food. She loves to practice what she preaches in her everyday life with copious amounts of herbal tea, Pilates, and hyaluronic acid.