Mum surprised after Easter hat she makes for her son ends up looking very rude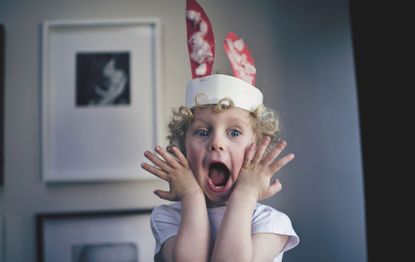 (Image credit: Getty)
Making kids' costumes doesn't always end up how you think it will.
And one mum was shocked after the Easter hat she made for her son ended up looking rather ruder than she intended.
Mummy blogger Mrs Mombastic, whose real name is Kate, took to her Facebook page to explain how her son asked for a giraffe hat to enter this year's Easter bonnet competition and she went on to try and fulfil his request.
'Easter bonnet season is upon us...' wrote the creative mum. 'I told my son that he could do whatever he wanted. I was so full of hope. So... so... so.... foolish.
''A giraffe!' He declared with a sparkle in his eye.
Read more: How to make an Easter bonnet (opens in new tab)
''Giraffes are my favourite animal mummy!''
Explaining that her husband tried to dissuade their keen son from this idea but he was set on it, Kate shared the trials she endured to get the hat done.
'Two bonnets in the bin, lots of papier mache, super glue, gaffer tape and many other failed attempts later, my son and I came up with this...
'Ladies and gentlemen, I give you: 'The Penis Bonnet',' she exclaimed.
https://www.facebook.com/mrsmombastic/photos/a.420223071813674/580878179081495/?type=3&theater
'My husband laughed,' continued Kate, 'I cried.
'But I suppose most importantly, my son was incredibly proud of our hard work.'
'And his favourite part?' she added. 'The giraffes neck. Of course.'
The Wiltshire-based mum then explained how tried to rectify the oddly-shaped children's hat.
'We will wait for it to dry, attempt to fashion some spots out of felt and perhaps some horns out of pipe cleaners, stick on some googly eyes and he will enter the Easter bonnet competition full of the same hope that I had had about two days earlier before starting this monstrosity.
'Hopefully the end result will look slightly less 'penisy' (for want of a better word),' she added.
And in a subsequent post the proud mum went on to reveal that her creation actually won the bonnet competition.
'It just goes to show that if you GET A GRIP of the situation, you can PULL IT OFF'
https://www.facebook.com/mrsmombastic/photos/a.420223071813674/581678365668143/?type=3&theater
'Thank you so much everyone for the TIPS,' she added.
'I'll leave you with the finished product: ❤❤❤❤'.