Mum issues warning after a single kiss almost killed her baby girl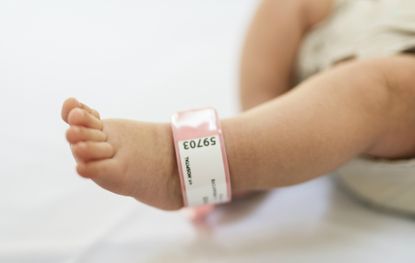 A mother-of-one was left horrified when she discovered her baby daughter contracted herpes from a kiss by someone who had a cold sore.
A mum has taken to Facebook to issue a warning to other parents after her one-year-old daughter, Kaylah, contracted the herpes virus after being kissed on the lips.
Brogan Thomas, 22, was bathing her daughter in December last year, when she noticed that Kaylah seemed uncomfortable and was increasingly developing red marks all over her body. Speaking of the incident, the mum told People: 'It looked like [Kaylah had] been in a fire.'
https://www.facebook.com/photo.php?fbid=527687724323295&set=a.121781198247285&type=3&theater
The horrified mother, who lives in Durham, then whisked her daughter off to the hospital, where doctors informed her Kaylah had contracted the herpes virus, after making contact with someone who had a cold sore and had kissed the baby on the lips.
Dad issues important warning to all parents after his baby daughter died of common herpes virus (opens in new tab)
The young mum remains perplexed as to when the kiss happened or who it could've been from.
Kaylah was hospitalised for four days, and continued to receive house calls from doctors after she was allowed to go home so that they could administer daily injections. Brogan also has to take her daughter to the hospital weekly for more tests and treatment, and in May, Kaylah will need a scan to determine whether the virus has affected her brain.
Brogan has since taken to Facebook to warn other parents to be extra wary of the risks imposed to babies by the herpes virus.
The mum wrote: 'So I've just seen a post about how parents go over the top about people kissing the child on the lips and that it's perfectly fine? Well I can tell you now that's not the case.'
She then posted photos to give fellow parents a visual representation of Kaylah's terrifying experience.
https://www.facebook.com/brogan.thomas.56/posts/572645479827519
According to the UT Southwestern Medical Centre, HSV-1, most commonly known as oral herpes, is an infection that typically happens through contact from an infected person's lesion to an area of the baby's body, such as the eyes or mouth. This can therefore occur if someone with a cold sore kisses the baby, or even more rarely, if the individual touches a cold sore and then touches a baby.
Although HSV-1 is typically quite harmless in adults, because babies' immune systems aren't strong enough to fight off the virus, they are much more at risk of it becoming life-threatening if the condition is left untreated.
Symptoms in infants for the virus can be vague, and according to the Medical Centre 'include difficulty breathing, bleeding easily or feeding poorly.' If there is an appearance of sores, they can 'crop up anywhere on the body.'
Doctors have warned new parents that are wary of the virus to ban anyone with a cold sore, or anyone who you know has had a cold sore in the previous week, to hold or kiss your baby.
Freelance Lifestyle Writer
Niamh McCollum is a freelance lifestyle writer who has written for Future titles GoodTo and Marie Claire UK, plus the Irish Independent. The Dublin-based journalist specialises in stories
affecting families - from health updates, to the freshest parenting debates and celebrity announcements.