Mum saves choking baby daughter with simple technique she learned from YouTube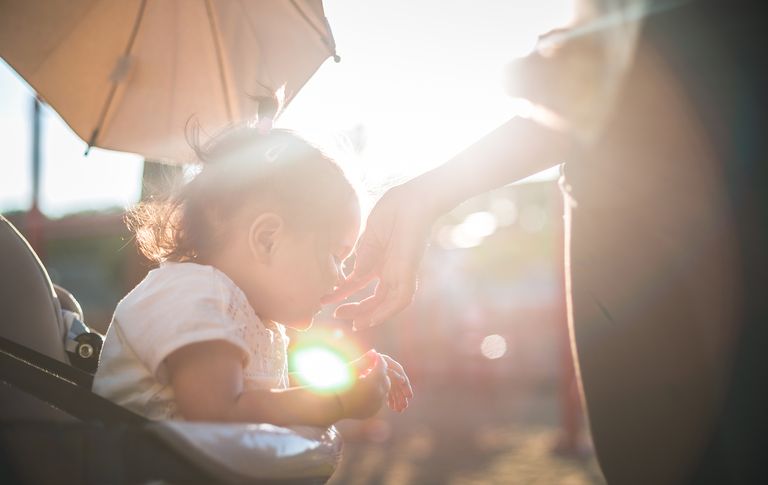 (Image credit: Getty)
A mum has revealed how she saved her baby daughter from choking with a simple technique that she learned from a YouTube video.
Lindsey Hughes from Ewloe in North Wales opened up about how she saved her eight-month-old daughter from choking after she noticed her face changing colour and her eyes bulging.
'We were walking along the seafront in Brighton and I had started to wean her and she was eating really well,' the brave mum told the Daily Mirror.
'I gave her a mango finger to chew on,' she continued. 'She liked the juice and it helped with teething.
The 32-year-old said that luckily she sat on a bench and watched the baby while she ate.
Speaking of the moment she realised something was wrong, she said: 'Suddenly, she went very quiet. The colour changed in her face. She went a reddish purple in seconds and her eyes started bulging. She looked really shocked, like she didn't understand what was going on.'
'It looked like she was convulsing because her little body was moving so much in panic,' she recalled. 'It was terrifying to see someone so small and delicate panicking.'
After realising that the pair was relatively isolated and there was no one around to help, the terrified mum grabbed the baby from her pram and tried to step in.
'I was always worried about my baby choking so from the time I was pregnant I watched the St John Ambulance video about how to unblock a child's airway,' she explained.
https://www.facebook.com/SJA/posts/10155927435231568?__xts__[0]=68.ARDMQjhMUBZBqFIz12x2Q3OB7NPM-dieA4ahdzP-s91-iOscWXz6z4903CC5_JJRXVHv5DcJvifTAvRmeteYgGfYf-veTrPfW_ppMdpzWyIv5_Mp6cafm-UPNamlmMl27BKG5xMmULFASrdKFMc2iH2OgoKNJH5s0UFO3p6HShXxXOzWj0bHJ7Etfy4ORFOYDg3CCuwr_T_FPLSAAiCX7yU8FGfSSFp-i3Hor0h9dTMbj-nw-JoYZ5sqXHJOAIqfWRaax1FKGOvyA5-b6XMwAwhpSBgKtnbJuQBV63lzzXDNfw3KfXbvR7iqRwNh-XpfnCGYWXX-eOaFxkQ&__tn__=-R
'I put her across my legs, with her head by my knees and her feet by my body, I raised her bottom a bit so there was some elevation at her back.'
The mum then gave her daughter four big pats on the back.
'I checked after each one if she was OK. She was a tiny baby and I didn't want to hurt her but I had to do it hard because I needed to get it out.
Read more: Mum's warning to take care with baby monitors after toddler suffocated
After the fourth pat, Lindsey said that her daughter started to breathe as normal and her colour returned. She even reached out to her mother for more food!
https://www.youtube.com/watch?v=oswDpwzbAV8
'I was shocked that it had worked,' said Lindsey. 'I started looking around for validation about what had just happened but there was still nobody around.
'I put her back in her pram because I wasn't feeling very stable myself at that stage and I just sat there looking at her as she grasped out for food.
Lindsey says that watching the St John Ambulance video allowed her to save her daughter's life.
The resourceful mum has now been nominated for a St John Ambulance Everyday Heroes award to commend her bravery.
'When a child chokes there's no huge indicator about what's happening,' she said. 'It's difficult to think in the moment about what to do. But I had watched that video so many times I was prepared.'
Aleesha Badkar is a lifestyle writer who specialises in health, beauty - and the royals. After completing her MA in Magazine Journalism at the City, the University of London in 2017, she interned at Women's Health, Stylist, and Harper's Bazaar, creating features and news pieces on health, beauty, and fitness, wellbeing, and food. She loves to practice what she preaches in her everyday life with copious amounts of herbal tea, Pilates, and hyaluronic acid.