Mum sparks debate after defending her decision to take baths with her two pre-teen sons
Do you agree with the mum?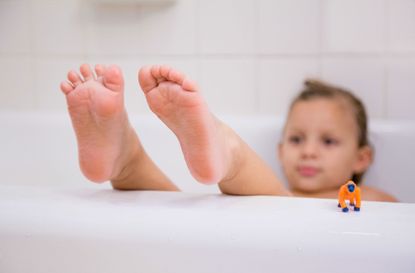 Goodto Newsletter
Parenting advice, hot topics, best buys and family finance tips delivered straight to your inbox.
Thank you for signing up to GoodTo. You will receive a verification email shortly.
There was a problem. Please refresh the page and try again.
A mother has spoken out about her the reason she's happy to bathe with her two pre-teen sons.
Lauren Libbert revealed that she gets into the tub with her boys, aged 10 and 11, during an appearance on This Morning.
'If they're happy with it, then we'll have a bath together maybe once a week. This isn't a big issue in our house at all, it's something we've been doing for years,' she told the show's hosts Holly Willoughby and Phillip Schofield.
'It's something which is really enjoyable. I've got a very tiny bathroom but we'll all scooch together sometimes, the three of us.'
Lauren continued by explaining that the trio often pass the time by flicking through magazines.
'Sometimes we'll just read a magazine, or sometimes we'll just chat. We can be in there for 20 minutes or so. And we have no issues with that at all,' she continued.
'We've been doing it for a long time, my boys are very comfortable with me being naked, with them being naked. It's something we do in the house which is very normal.'
Lauren went on to say that she would stop if it ever became an issue for her firstborn.
'If suddenly my eldest doesn't want to be naked around me, or doesn't like seeing me naked, then I will take his lead,' she concluded.
'It's up to him. But at the moment, we're all very happy and very comfortable. I grew up in this environment, and I was doing this past puberty, and I think it's made me very comfortable in my own skin.'
The conversation between Holly, her co-presenter and Lauren quickly became a talking point on social media. A number of viewers flocked to Twitter to air their thoughts, with some clearly baffled by her decision.
'Each to their own. I wouldn't do it. I've seen the colour of the bath water after my kids have had a bath - it looks like pond water. How would you ever feel clean?' pondered one.
Another added: 'A mother bathing with her 10 and 11 year old sons is not only inappropriate, it's also unhygienic. Another point, what would everyone's reaction be if a dad got in a bath with his 11 year old daughter?'
Others, however, made it clear that they couldn't see any issues with Lauren's bath time arrangement.
'I'm 22 and still walk into my mum's room when she's changing/ bathroom when she's having a bath for a chat. But never with my dad, just the way I've been brought up I suppose,' quipped a third user of the site.
What do you think of the mum's decision? Do you think it's inappropriate? Let us know in the comments!
Parenting advice, hot topics, best buys and family finance tips delivered straight to your inbox.