Mum shares honest truth about what sex is like once you're a parent
'It's a pretty romantic scene really, listening to Iggle Piggle in the background...'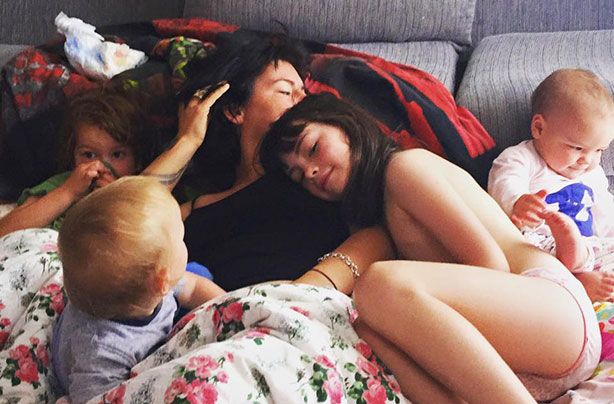 Mummy blogger Constance Hall has taken to Facebook to share exactly what it is like to have sex (opens in new tab) once you have children.
Her hilarious and honest 'parent sex' post has clearly struck a chord with mums and dads everywhere, as it has been shared over 22k times and liked nearly 90k times since she first shared it yesterday.
The mother-of-four from Perth, Australia begins her post saying; 'We had 'parent sex' yesterday.'
But instead of painting a romantic scene with husband Billy, Constance has won her thousands of fans by painting a more realistic version of events.
Image:Facebook/Constance-Hall (opens in new tab)
Constance writes; 'You know what parent sex is, it's that 3.5 minutes you get in between changing nappies and making food, where you notice that all of your kids are pretty distracted.'
The 32-year-old has four children, one-year-old twins Rumi and Snow, Billie-Violet, 6, and Arlo Love, 4.
'It's a pretty romantic scene really, listening to Iggle Piggle in the background, knowing your days are numbered when you hear the ad break.'
Describing a scene that is about as far from a Hollywood romance as you can imagine, Constance says; 'You position the bed to have one foot against the door because for a loud bunch of kids, yours can be pretty quiet when they're sneaking up on people.'
And of course using the sex positions (opens in new tab) 'yoga' excuse. How many of us have heard that one before?!
'Where no matter how hot it is you chuck the duvet on top of yourselves in case someone manages to barge through and catch mummy and daddy doing 'yoga' in bed.'
https://www.facebook.com/1019711431407015/photos/pb.1019711431407015.-2207520000.1452072439./1061290347249123/?type=3&theater
Judging by the comments on the post Constance has clearly hit the nail on the head.
Jacenta Lane said; 'This is by far the most honest and true statement ever made by a woman on Facebook.'
Whilst another wrote; 'That is just sooo true. Those of you who can't imagine this. Just wait. Your turn will come.'
Trusted, informative, and empathetic – GoodTo is the ultimate online destination for mums. Established in 2007, our 15-year-strong archive of content includes more than 18,000 articles, 1,500 how-to videos, and 7,000 recipes.