Mum's controversial hack for easing baby congestion goes viral
Well this is certaintly different...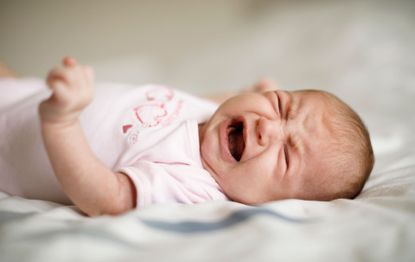 (Image credit: damircudic/Getty Images)
Most mums are prepared to try almost anything to get a poorly baby back to their bouncing best.
And this certainly proved to be the case when an unusual hack for easing baby congestion using no less than a vibrator – yes you read that right – became a viral hit with mums across the globe.
Shared on the Facebook page of Melons and Cuties – a US provider of birth, lactation and wellness services – by owner Crystal Snider, the post has attracted more than 24,000 comments.
It read: 'Our customer shares her remedy for chest congestion!! Use on baby's back while sitting in a steamy bathroom. Brilliant!!!'
https://www.facebook.com/Melonsandcuties/posts/2192825567422233:0
Before offering the following note of caution: 'Note that many hospitals and respiratory therapists use these in the treatment of respiratory issues on the BACK in hospital settings. It is common practice. We are just sharing the information and do NOT sell this product.'
The controversial remedy naturally divided opinion, but some revealed that they had heard of the adult sex toy being used in 'alternative' settings not dissimilar to the one described above.
One wrote: 'We were in the NICU at Cook children's Ft. Worth and the respiratory team had vibrators of all sizes for this. My husband about lost his mind the first time they used one on our baby. They are perfect for the job!'
Mum sparks controversy with sneaky hack to guarantee free shopping delivery
While another added: 'My dentist office has one they use it to vibrate your cheek while injecting novicane to make it painless because your brain cant process the pinch of the shot and the vibration at the same time.'
A third continued: 'I sell this toy and I personally use it on my child for congestion and I have used Mira and a bullet to get clogged milk ducts back to normal!'
Responding to positive responses Crystal argued that it was 'good to see moms encouraged to use things readily available to help with wellness' before admitting that her team had 'been laughing for days...' over the hack.
Many Facebook users, however, struggled to take the post seriously, and couldn't help but poke a little fun at it.
One joked: 'Does that mean I should put one on my baby Registry?! I mean... I'd do anything for my kid!'
While another teased: 'Hilarious. Hey, you gotta love items that are multi-functioning.'
Freelance Lifestyle Writer
Miriam Habtesellasie is a freelance lifestyle writer who has contributed content to GoodTo, Woman&Home, Women and Idealhome.co.uk. Miriam is based in London and is a fan of everything interiors, she admits to being spoilt for choice living in the capital. From stunning architecture right the way through to eye-catching department store window displays, she believes there's always an angle to be found that can translate to our abodes.