Mum sparks controversy with sneaky hack to guarantee free shopping delivery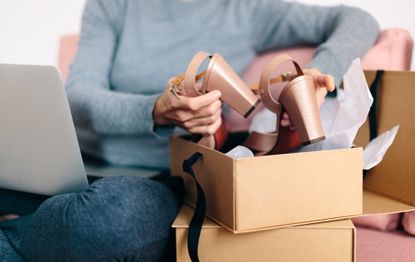 (Image credit: Getty)
We all have the same grievances when it comes to paying delivery charges.
We're happy to rake up the shopping basket total, but an excessive extra cost to get it all delivered? Absolute no-no.
So, one mum has come up with a genius hack to make sure that she never has to pay a delivery charge ever again.
But some people are not happy with it.
Money saving (opens in new tab) blogger Kirsty Holden revealed in the Latest Deals, Extreme Couponing and Bargains group on Facebook that when shopping at Sainsbury's she avoided paying the £3 delivery charge by adding extra items to her basket to make the total price surpass the free delivery limit.
Once she received the package she then returned the rest of the bits that she didn't need to get a refund on those extra items she had topped up the order with to get free delivery.
Some Facebook users commented that they do the same as delivery charges can be so expensive these days.
'I do this all the time! Always do it with Debenhams because their delivery is expensive,' wrote one user, 'also do it with New Look and George! I return to store what I don't want rather than posting it back.'
'I did this with Debenhams the other day,' wrote another, 'it was 4.99 delivery or I could spend £10 more and get free delivery. I also knew I was going to be going to Debenhams over the same weekend so I popped the £10 item back to store as I was there anyway. I just needed the other item sooner than I could get there'.
While another found the tip a revelation, writing: 'I had never actually thought of doing that before. Seems a lot of hassle to be sending stuff back just for the sake of saving a few quid on the delivery.'
However, many disagreed with the tactic calling it 'deceiving', not 'morally right' and 'fraud'.
'I can't believe that anyone would encourage this!!' raged one Facebook user. 'This will drive prices up and people who return the items to the high street stores don't realise that it then comes off their bottom line of sales for the day. Could result in more shop closures on the High Street. Get a grip on yourselves!!'
Another pointed out the environmental ramifications, writing: 'Personally if people abuse the free delivery option then eventually companies will revoke the right. I get why it's enticing to make the most of it but - return items via couriers causes more unnecessary pollution. Some savings aren't worth the long term side affects.'
'Never, just isn't morally right. Deceiving and fraud if u ask me,' wrote another.
What do you think? Head over to our Facebook page to have your say.
Aleesha Badkar is a lifestyle writer who specialises in health, beauty - and the royals. After completing her MA in Magazine Journalism at the City, the University of London in 2017, she interned at Women's Health, Stylist, and Harper's Bazaar, creating features and news pieces on health, beauty, and fitness, wellbeing, and food. She loves to practice what she preaches in her everyday life with copious amounts of herbal tea, Pilates, and hyaluronic acid.