New parents would trade their baby shower for help after the birth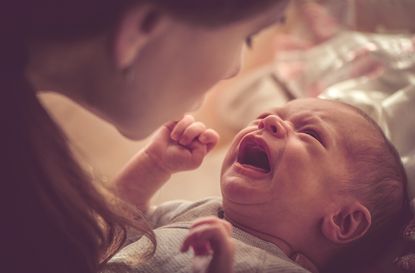 (Image credit: Getty)
GoodTo newsletter
Sign up to the GoodTo Newsletter. You can unsubscribe at any time. For more information about how to do this, and how we hold your data, please see our privacy policy
Thank you for signing up to . You will receive a verification email shortly.
There was a problem. Please refresh the page and try again.
A quarter of new parents would trade their baby shower for help with meals, cleaning and food shopping after the baby's arrival.
New research has revealed night feeds and keeping on top of the dirty washing are among the most stressful things about becoming a new parent.
A poll of 2,000 mums and dads asked them to think back to a time when they were blessed with a new bundle of joy - and the struggles that came with it.
A lack of sleep, leaving the newborn alone at any time and simply trying to cope with the huge change also appeared in the top 20.
And the average parent reckons it took nearly a year after their baby was born before they started to relax as a new parent.
The research, commissioned by Uber Eats to celebrate the launch of a limited-edition parents menu, also saw finding time to go food shopping and eat a proper meal instead of snacking on the list.
More: What to expect in your newborn's first weeks at home (opens in new tab)
More than half of respondents (54 per cent) were also worried about eating the right foods and getting the nutrition they needed in the first six months of their baby being born.
Hannah Richards, nutritional expert and curator of the menu, said: 'Nutrition is so important for mothers immediately after giving birth so they can get full strength and vitality back.
'The B vitamins, magnesium and probiotics are a great way to ensure these needs are met'.
The study also found that learning to be flexible with plans and seeing family and friends are considered some of the most stressful things about becoming a new mum or dad.
But more than half believe there is nothing else in life that can prepare you for parenthood.
The study found that 20 most stressful things about parenting were:
Lack of sleep
Making time for yourself
Trying to have a shower
Settling a crying baby
Getting the baby to go to sleep
Night feeds
Knowing what's wrong with the baby such as unexplained rashes or ailments
Simply trying to cope with the change
Leaving the baby alone at any time
Leaving the house without forgetting something
Cooking while keeping an eye on the baby
Keeping the house clean
Keeping clothes clean/keeping on top of the washing
Constantly checking the baby is OK when they are sleeping
Trying to go to the toilet
Eating a healthy meal
Spending enough quality time with your partner
People judging you over your parenting techniques
Not leaving things lying around that the baby might pick up/grab
Keeping on top of finances