A nurse who'd given up hopes of motherhood adopts premature baby abandoned in hospital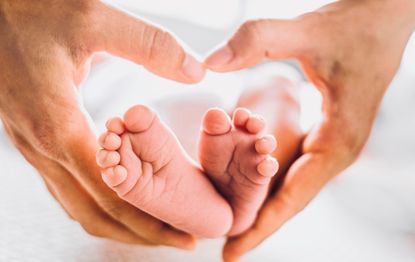 (Image credit: Jacek Sopotnicki/imageBROKER/REX)
Liz Smith met her future daughter at work.
Liz, who works as a senior director of nursing in Boston, had always wanted to be a mum, but she was devastated when she discovered that she didn't qualify for IVF.
Just about to turn 40, she thought she'd have to give up on her dreams of being a mother forever.
But it seems like fate had other plans. 'A few of the nurses at Franciscan Children's Hospital approached me and asked, "Have you met Gisele?" and I said, "No. Why?" and they said, "She needs a medical foster home and you two are the perfect pair,"' she told CBS Boston.
Liz confessed that although she had never considered fostering or adoption before, she and Gisele bonded almost instantly.
https://www.facebook.com/photo.php?fbid=10218933060937462&set=pb.1231377990.-2207520000.1555067418.&type=3&theater
Gisele had been born prematurely at 29 weeks of pregnancy and weighed just 1lb 14oz. Heartbreakingly, she also had neonatal abstinence syndrome (NAS) because her mother had taken drugs while she was pregnant.
NAS happens when a baby goes through drug withdrawal after birth and includes symptoms like shakes, seizures, fever, fussiness and problems with sleeping, feeding and breathing.
Liz started visiting Gisele at the end of each of her shifts, while visits from the little girl's birth parents – who were both battling with drug addiction – became less and less frequent.
https://www.facebook.com/photo.php?fbid=10217716641167728&set=pb.1231377990.-2207520000.1555067418.&type=3&theater
Eventually, Liz decided to foster Gisele, with the end goal of reuniting her with her parents. But the thought of losing her became more and more difficult.
One night, 'the thought went into my head of losing her,' Liz recalled. 'I had to go there in my mind because it was still a reality, but it made me sick to my stomach.'
This realisation prompted Liz to apply to adopt her.
After Gisele turned two, the process was finally completed.
Liz said she felt 'really sad' for Gisele's birth parents, who'd made no attempt to appeal against the adoption, but admitted that she was 'really happy' for herself.
Although Gisele has ongoing difficulties and still has to use a feeding tube, Liz says she is so happy she can't believe she was ever upset. 'I can't remember the hard times because she makes me so happy,' she shared.
Samantha is a freelance writer at Goodto who has been with team since 2019. Initially trained in psychology, she specialises in health and wellbeing and has additionally written for magazines such as Women's Health, Health & Wellbeing, Top Santé, Healthy, Refinery29, Cosmopolitan, Yahoo, CelebsNow, Good Housekeeping and Woman&Home.