Paloma Faith thinks that men 'couldn't cope with motherhood'
What do you think about Paloma's comments?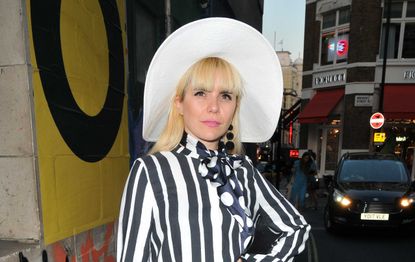 (Image credit: Can Nguyen/REX/Shutterstock)
Paloma Faith has revealed that motherhood is so exhausting she thinks that if a man had to do it they would drop dead.
Paloma welcomed her first child back in December 2016 and has been incredibly honest about finding motherhood lonely and even like 'hell'.
She's a singer, an actor and a very proud feminist and has decided to raise her child as gender neutral.
Not one to shy away from bold statements, Paloma didn't hold back during her interview with Sky News and has revealed that she thinks men would be hopeless at motherhood because it's exhausting, challenging and something that is 'underestimated culturally'.
She explained: 'As a relatively new mum I feel like since having a child I have become much more efficient and much more organised and felt much more powerful and capable of achieving anything. Because it's so challenging to be a mother. I think part of that has been underestimated culturally.'
Paloma continued: 'If it had been spoken about more by women - because we have a duty to ourselves and to our fellow women to speak about these things - then I think the world would be run by more women… because if a man had to do it they'd drop dead, I swear. It's bloody exhausting. It's actually unfathomable how women have done it for that long.'
Paloma doesn't post any pictures of her child on social media but she does gush about her partner Leyman Lahcine and credits him as 'brilliant enough' to look after their child
Paloma credits her mother for raising her as a strong-minded woman who always believed she was capable of anything as a child.
She gushed: 'I was raised by an incredibly inspiring woman who raised me by herself and as a feminist, and I've been sort of grown in a way, cultivated to believe that everything in my wildest dreams is possible.'
Understandably, many dads are not happy with Paloma's comments and have taken to Twitter to share their disappointment and outrage.
One wrote: 'A massive insult to all the single dads out there either through divorce or a partners death and those who do an equal share in bringing up the children in a relationship . But then I think it may be a case of first time mum, St Paloma and a bit of PR'.
Another said: 'Mothers couldn't cope with fatherhood. Having to leave your child every day to go to work is so hard . Neither mum or dad has it easy. To play down what men do is abhorrent.
'Women go through absolute hell delivering the baby. An life with the baby alone at home must be the hardest thing. But devaluing a man's role is wrong. I hate leaving Isaac every morning. An wish I could help wife more in the day. To say men couldn't handle doing it is bollocks.'
A third wrote: 'She needs to pipe down. Plenty of fathers being both mum and dad in very trying circumstances and doing an amazing job.'
What do you think about her comments about men and their ability to deal with motherhood? Do you agree or do you think all parents, men and women, have an equally difficult time? Head over to our Facebook page to join the conversation!
Jessica currently works as a Senior Food Writer at Future. She writes food and drink-related news stories and features, curates product pages, tests, and reviews equipment, and also develops recipes that she styles on food shoots. An enthusiastic, self-taught cook Jess adores eating out and sharing great food and drink with friends and family. She has completed the Level 1 Associate course at the Academy of Cheese and is continually building on her knowledge of beers, wines, and spirits.