Aldi's Kevin the Carrot has come under fire by parents for not wearing a seatbelt in Christmas advert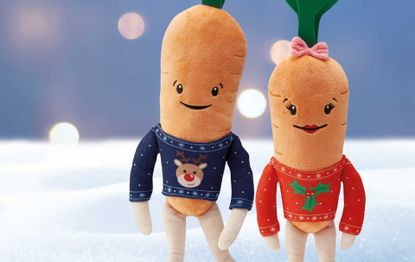 (Image credit: Aldi)
GoodTo newsletter
Sign up to the GoodTo Newsletter. You can unsubscribe at any time. For more information about how to do this, and how we hold your data, please see our privacy policy
Thank you for signing up to . You will receive a verification email shortly.
There was a problem. Please refresh the page and try again.
It's been a controversial year for the nation's Christmas adverts.
First frozen food retailer Iceland's Christmas advert (opens in new tab) was banned by advertising watchdogs and then the Advertising Standards Authority (ASA) received dozens of complaints about leading supermarket Sainsbury's Christmas advert.
And now advertising regulators have received complaints from parents about budget supermarket Aldi's iconic Christmas character Kevin the Carrot (opens in new tab).
This year's festive campaign sees the supermarket's Christmassy mascot driving a lorry in around a cliff in a wintery snowstorm.
However, parents have complained to the ASA that the animated carrot was setting a bad example to children as throughout his treacherous journey - because he was travelling without a seatbelt!
'The vast majority of the complaints we receive are coming from a very good place,' ASA chief executive Guy Parker told the Daily Record.
'But you do get the odd one where you think, "Crikey, I'm not sure most people are going to read the ad in that way",' he continued.
'The people who complained about Kevin were worried children would think it was OK for them not to wear a seatbelt too.
'But we took the view that this ad is very fantastical. Children are unlikely to think that.'
This comes soon after parents complained to the ASA about Sainsbury's Christmas campaign, which saw a group of children performing a festive play at on stage at school.
They create a full Christmas scene, including a set of Christmas tree lights with a little boy dressed as the plug.
Towards the end of the advert, the little boy dressed as the plug leaps into a socket design on the wall.
Parents complained that this would encourage children to play with electrical plugs and sockets.
'People were concerned that it was potentially harmful or irresponsible,' said Guy. 'But we don't think there has been a breach of the code. It's not the kind of thing that is going to lead to children sticking their fingers in sockets.'
Do you feel these adverts really set a bad example or are these complaints are over the top? Head over to our Facebook page and let us know.