Sam Faiers sparks concern after saying she's not 'ashamed' that she still co-sleeps with daughter Rosie
What's your first reaction?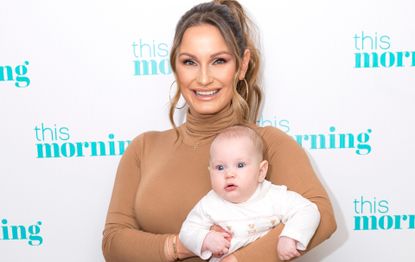 (Image credit: Rex Features)
Sam Faiers has sparked concern from fans after admitting that she still co-sleeps with 11-month-old daughter Rosie.
Taking to Instagram the 27-year-old – who is also mum to two-year-old Paul – shared a black and white snap of herself breastfeeding her youngest child.
Alongside the pic, she wrote: '11 months young today. My little Rosie still going strong on the boobie and not ashamed to say still co-sleeping. Mummy can't believe your going to be one next month.'
Reacting to the reality star's admission, some of her fans warned of the potential pitfalls of co-sleeping.
One user cautioned: 'I work in child protection and know of so many tragic and traumatic stories about co-sleeping. Please be careful,- can be extremely dangerous!!!!'
While another added: 'I was told whilst I was in the hospital co sleeping was a child protection issue?? but when I feed my baby I fall asleep?? I literally cannot help it. I wake up then put baby in the cot which is right next to my bed. My health visitor informed me it's not a 'child protection' issue but guidelines are against it. I did tonnes of research and lots of issues are to do with people falling asleep on the sofa and these stats are recorded in with co sleeping.'
Safe co-sleeping: Everything you need to know about co-sleeping with your baby (opens in new tab)
A third continued: '@seebyb we do advise for babies to be in their own beds where possible for safety but recognise it does happen, so tend to refer them to the Infant Sleep Information Source and discuss safe bed sharing x'
However, there were many who supported the former TOWIE star's decision to co-sleep, emphasising that safely co-sleeping with your baby can bring benefits for both mother and child.
One said: 'So glad I breastfed for 2.5 years as recently I've had a double mastectomy! my baby girls whose 7, still co sleeps most nights, she feels warm & loved & that's all that matters!'
While another added: 'My six year old has really bad nightmares. He's such a unsettled sleeper, and always has been. I let him sleep next to me whenever he wants to!! He sleeps well, the house sleeps well, and everyone makes it up for school the next day! enjoy hot babies, they will be grown in a flash, and seven and still giving the best sleepy cuddles lol!
According to the NCT – the UK's largest charity for parents - around half of all mums in the UK will co-sleep with their babies at some stage during the first few months after birth.
What do you think of co-sleeping? Did you co-sleep with any of your children as babies? Did you face a backlash for doing so? Join the conversation on our Facebook page.
Freelance Lifestyle Writer
Miriam Habtesellasie is a freelance lifestyle writer who has contributed content to GoodTo, Woman&Home, Women and Idealhome.co.uk. Miriam is based in London and is a fan of everything interiors, she admits to being spoilt for choice living in the capital. From stunning architecture right the way through to eye-catching department store window displays, she believes there's always an angle to be found that can translate to our abodes.