Sam Faiers clashes with partner Paul Knightley over when their son should start nursery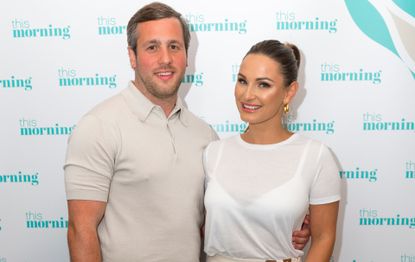 (Image credit: Ken McKay/ITV/REX/Shutterstock)
GoodTo newsletter
Sign up to the GoodTo Newsletter. You can unsubscribe at any time. For more information about how to do this, and how we hold your data, please see our privacy policy
Thank you for signing up to . You will receive a verification email shortly.
There was a problem. Please refresh the page and try again.
The Mummy Diaries' Sam Faiers has clashed with boyfriend Paul Knightley over when their son should start nursery.
This week's episode of the popular The Mummy Diaries saw Sam get into a furious argument with partner Paul after the mum-of-two said that she wants the couple's three-year-old to join a nursery.
While enjoying a romantic meal away from three-year-old Paul and his one-year-old sister Rosie, who Sam was recently forced to defend from critics, the former The Only Way Is Essex star carefully broached the subject of when the little one would start his school journey.
'I think that Paul is definitely ready for a playgroup because really he only plays with Nelly and Arthur and us,' she said to her former property developer boyfriend.
'I really do think he would love it,' she added. 'Three is a perfect age because it gives him a whole year before he goes to school just to get used to a routine and playing with other children'
However, Paul obviously doesn't agree with the 27-year-old mum, who has been praised for her post-partum body (opens in new tab), replying: 'The play school thing I'm not too keen on. You know what it's like with school when you go to school you are forced into a room with a load of people you don't know and some people get on with school better than other people.
'You are just forced into it. You've just got to go, it's not like you want to go.
The reality star, who earlier this year sparked controversy over co-sleeping (opens in new tab), continues to disagree with her partner, saying: 'We will never know, unless we try.
'Baring in mind, a lot of people put their kids in nursery way sooner than we have, but I just feel like he's really going to benefit from it in terms of all different activities that they do, playing with your peers and if he doesn't like it then he doesn't like it. I think we should try.'
Sam also tries to show a level of understanding with her boyfriend when she says: 'I know what you are saying, he's your baby and you just want him with you all the time, but I do think maybe it would actually be really nice for him.'
But the dad-of-two just isn't ready to let go of his little boy, saying: 'I've spent so much time with him and get to do so many things with him that I feel like it would be like losing my left arm if you took him away from me.'
Sam continues to argue that she thinks their son needs more structure in his routine, rather than just to 'stay at home and play' and even requests that her partner visit a few places with her to see what they're like.
With Paul still not convinced the couple didn't manage to come to a concrete resolution by the end of the episode, but Sam was determined to stay strong 'as parents'.
'We can't afford to be falling out over it,' she said, 'we need to stay together, be strong and just be happy, whatever the outcome is.'
The Mummy Diaries is shown on ITVBe on Wednesdays at 9pm.