Primary school headteacher bans children from bringing birthday treats to class
A primary school headteacher has banned children from bringing in sweets and chocolates on their birthdays.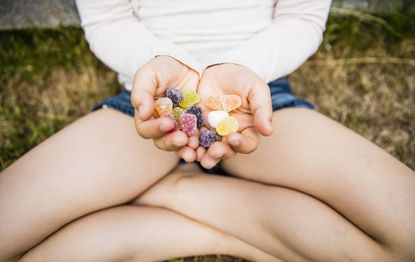 (Image credit: REX/Shutterstock)
GoodTo newsletter
Sign up to the GoodTo Newsletter. You can unsubscribe at any time. For more information about how to do this, and how we hold your data, please see our privacy policy
Thank you for signing up to . You will receive a verification email shortly.
There was a problem. Please refresh the page and try again.
A primary school headteacher has banned children from bringing in sweets and chocolates on their birthdays.
Chasey Crawford-Usher, headteacher of Wateringbury Primary School in Kent, said sharing sweets on special occasions is a 'nightmare tradition' that has grown 'out of control'.
She has already banned pupils from bringing juice and crisps to school, except on Fridays.
'I was aware of increasing amounts of sugar in children's diets, there were sweet wrappers all over the playground and parents were putting themselves under lots of pressure to provide sweets for children's birthdays and not all of them were happy about it,' she told This Morning viewers.
https://www.youtube.com/watch?v=ghUCeqPXBgU
New figures show that more than 100 children a day have to have a tooth removed because of decay (opens in new tab) in England. Nine out of ten tooth extractions in under-fives are preventable, according to Public Health England, who say that the average child consumes about eight cubes of sugar (opens in new tab) more than they should per day.
Read more: 5 easy steps to help you care for your child's baby teeth (opens in new tab)
'The children are in my care from 9am to 3pm and I have to set boundaries and rules and a cultural ethos about what I believe is health and wellbeing, which involves what they eat during the day,' the headmistress continued. 'We know sugar levels, type 2 diabetes and tooth decay in children are on the increase so I have to make a stand.'
But Olympic race walker Tom Bosworth stirred up debate on Twitter, writing 'This head teacher is a moron. Common sense needs to be used here. What is happening to society to ban kids from having sweets on their birthday.'
The teacher insisted however, that although there were 'a few grumbles' from parents, 'the children understand why'. And in fact, the headmistress claimed, most parents actually said, 'Thanks very much'.
Instead of celebrating birthdays with sugar, the teacher explained, 'we sing Happy Birthday in the dining room. We celebrate in a way that makes the child feel important.'
What do you think about the ban? do you think it's a good idea or too strict? Head over to our Facebook page and have your say!
Samantha is a freelance writer at Goodto who has been with team since 2019. Initially trained in psychology, she specialises in health and wellbeing and has additionally written for magazines such as Women's Health, Health & Wellbeing, Top Santé, Healthy, Refinery29, Cosmopolitan, Yahoo, CelebsNow, Good Housekeeping and Woman&Home.