School sparks controversy after ditching school uniforms for 'hoodies' and joggers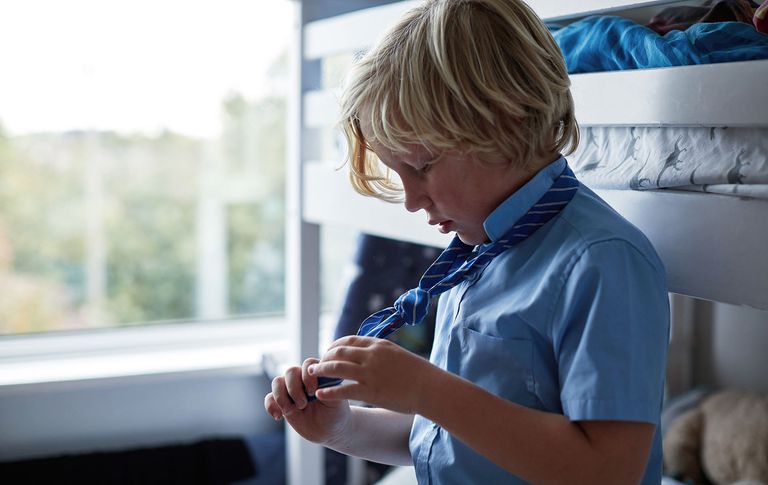 (Image credit: Getty)
A school in Warwickshire has caused outrage among parents by dramatically changing their school uniform policy.
Telford Junior School in Leamington Spa has made the decision to replace their traditional school uniform with a new relaxed uniform of hoodies and tracksuit bottoms.
As well as 'hoodies' and joggers, t-shirts or sports tops, shorts, trainers, white sport socks and 'zoodies' (zipped-up 'hoodies') are on the new uniform list.
Management at the school says that this decision has been made to support their active curriculum, so that pupils can wear the same uniform/kit all day, without having to change for PE and Games lessons. They also claim that the move will ease financial pressure on parents as the simplified uniform will mean that they only have to purchase one set of clothing.
There has long been a school uniform debate as to whether it should be scrapped because of its high price point, but with so many budget options available these days like Poundland's school uniform range (opens in new tab) and Aldi's £5 school uniform, plus so much advice available on things to look out for when buying a school uniform, it has now become an easier option.
Of course, there are reasons why many people favour school uniform, as wearing the same obligatory uniform daily means that you don't need to stress about choosing a different outfit every morning and there is less pressure to keep up with expensive clothes trends or designer outfits.
Head teacher, Richard Siviter, sent out a newsletter to parents explaining that the advantages of the new arrangement are that it: 'simplifies the school uniform; reduces costs to families; supports personal organisation; overcomes the issue of changing in school; saves valuable lesson time; maintains a uniform code; reduces lost property; helps children fit everything in their locker; [and] offers a more hygienic approach to managing physical activity [through overcoming] the issue of dirty, unwashed games kit in school'.
'The Governing Body has approved this proposal in principle,' he continued. 'I would like to give parents/carers the opportunity to comment on the proposal.'
He added that they would be discussing the matter with the children in school to understand the 'Pupil voice' on the issue.
Parents were divided with many commenting on Facebook that they would be against this move: 'I think the children are more in work mode when wearing smart clothes', 'Dress smart, think smart' and 'Omg awful.......keep the uniform'.
And while some offered practical advice as to why they didn't agree: 'I think the children are more in work mode when wearing smart clothes' and 'Can you imagine the smell in the classroom as ALL the children sit in class in the same kit after games all day. Pity the poor teachers as the pong of sweaty unwashed children permeate the classroom: Let alone the smell from their trainers.'
Others were simply against the 'slackness' of the proposed new uniform: 'Slackness is insidious', 'Setting them up for the track suit way of life for when they finish school' and 'When you've got lessons till 15:30 and ASBO's to attain at 16:00'.
But many praised the move, writing: 'So sensible for little people and looks very smart', 'I think it's a great idea. People who are comfortable will learn better than people who are not' and 'best move going'.
If the change is implemented, it will be interesting what the academic consequences are...
What do you think about the idea? Would you be happy if your child's school not longer enforced a smart school uniform policy? Head over to our Facebook page and share your thoughts.
Aleesha Badkar is a lifestyle writer who specialises in health, beauty - and the royals. After completing her MA in Magazine Journalism at the City, the University of London in 2017, she interned at Women's Health, Stylist, and Harper's Bazaar, creating features and news pieces on health, beauty, and fitness, wellbeing, and food. She loves to practice what she preaches in her everyday life with copious amounts of herbal tea, Pilates, and hyaluronic acid.