School slammed by parents after 'pupil with the best bum' was included in yearbook awards
What do you think?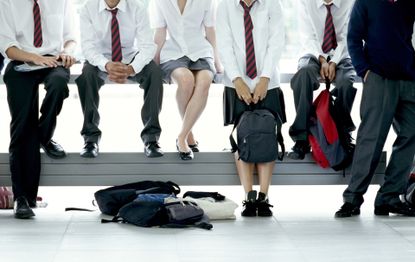 (Image credit: Tom Merton/Getty Images)
A Derbyshire secondary school has come under fire from parents after it included a 'best bum' category in its yearbook awards.
Parents were left outraged when children at Highfields School in Matlock were encouraged to vote on the attribute as part of the awards.
Another inclusion on the form that raised eyebrows was that for the 'flirtiest' pupils.
Jane Gretton, who has a 15-year-old daughter at the school, told Derbyshire Live: 'I am absolutely appalled by these voting slips, it is more like something out of an American school and to me it is just another form of bullying.
'To be asking questions like who has the best bum at that age is just ridiculous.
'They are young people and if there are children at the school who have hang ups over their body or their personality, then it could affect their mental heath in the future.'
Continuing to vent her frustration and dismay she added: 'I thought schools were meant to be stopping this sort of thing. It is ridiculous and inappropriate.'
And while praising the school in general, she emphasised that awards of this nature could not continue, saying: 'Having said all this, I think Highfields is a fantastic school. I have had two children who were there right up to A-level and are doing really well because of what they learnt at the school.
'These awards are not right though and I hope they are stopped.'
Responding to the controversy, the school took to Twitter to make an official statement.
It read: 'To Year 11 parents and students – We are aware of the issue with our Yearbook nominations and any planning around the Yearbook has been suspended until further notice. We apologise for any inconvenience'
The awards mark pupils' final year of formal education, and results are designed to be included in the annual yearbook.
But what is usually a fun way for students to remember their school years – and includes more light-hearted categories such as 'friendliest' and pupils most likely 'to become a millionaire' – turned very sour in 2018.
However, some struggled to see what all the fuss was about. One responded to the above tweet by saying: 'I'm a 'furious parent'.
'I'm furious that you have let this woman dictate what she wants the year book to say. Did you consult with other parents to see if they agreed? Because I certainly don't agree with her. Since I was at the school the yearbook is something the kids design.'
What do you think of the yearbook inclusions? Would you have voted to stop the yearbook altogether? Join the conversation on our Facebook page.
Freelance Lifestyle Writer
Miriam Habtesellasie is a freelance lifestyle writer who has contributed content to GoodTo, Woman&Home, Women and Idealhome.co.uk. Miriam is based in London and is a fan of everything interiors, she admits to being spoilt for choice living in the capital. From stunning architecture right the way through to eye-catching department store window displays, she believes there's always an angle to be found that can translate to our abodes.