Should schools ban homework?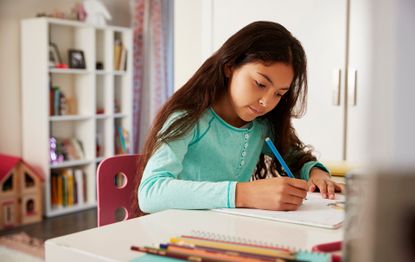 (Image credit: Monkey Business Images/REX/Shutt)
More than half of parents want it scrapped, but some argue it's a vital part of learning, so should schools ban homework? Two mums with very different options have their say...
NO! 'It makes children better learners' Emma, 38, lives in Southampton with her partner, Steven, 40, and their daughters who are aged, 10, seven, and 17 months old.
'Homework is essential for helping children reach their full potential and the sooner it starts the better. My two eldest both had homework from day one of school. It was only to read a few books each week, but the improvement I saw in their English and language skills was astounding.
'After year one, their homework became a lot more involved with spelling tests, problem-solving and basic mathematics. But I could see that when they applied themselves, it had such a positive affect on their learning. I didn't mind sitting down with them for 30 minutes each night and an hour at weekends because I knew it would benefit them in the future.
'My oldest daughter took a bit more coaxing than my middle child, simply because she preferred to play when she got home, rather than do more work. But eventually, she just saw homework as part of going to school.
'Even during the holidays, I welcome homework and I even set them little tasks, such as keeping a diary and making a scrapbook.Whatever their age, children need to learn the importance of independent study. After all, if we teach them this in primary school it will help them as they continue their academic careers. I've been told I make my children do too much homework, but I think it makes them better learners and I know they will thanks me for it one day.'
YES! 'It's often more of a task for the parents' Natalie Brown (opens in new tab), 38, lives in Hove with her husband Rob, 40, and their three children, Bluebell, seven, Max, four, and Marigold, one.
'When my daughter came home from the first week of school with homework I was shocked. She was only four. But the project her teacher wanted her to complete was a PowerPoint presentation on the Great Fire of London.
'Of course it ended up being a project my husband and I worked on, and as much as Bluebell loved skipping into school with the memory stick, I'm not sure how beneficial it was. She can tell you where the fire started and what year it was in, but the fact we had to do the work for her made it almost pointless.
Read more: 'It's heartbreaking. Homework really has changed my six-year-old daughter' (opens in new tab)
'It's often the way with homework, that it's more of a task for the parents. On top of that, giving a child too much takes a toll on them too. School work is vital but it should remain in school. Outside the classroom, children should be able to play and have fun.
'They shouldn't have to sit at the kitchen table stressed because they've got so much work to do. That's why, when Bluebell's school announced it was scrapping homework I sighed with relief. Now she has more time for activities like gymnastics and swimming.
'There's plenty of time for children to worry about homework, but while they are young, we need to let kids be kids.'
What do you think about the amount of homework children have these days? Head over to Facebook and let us know. This article was first published in Woman's Own.
Anna Bailey is the editor of GoodTo. She joined the team in June 2018 but has been a lifestyle writer and online editor for more than 14 years. Anna graduated from Bournemouth University in 2004 with a degree in Multimedia Journalism and went on to gain her NCTJ and NCE journalism qualifications. She began her career in local journalism, working as a reporter for the Basingstoke Gazette in Hampshire. As Lifestyle Editor for ITV.com she managed the websites for the broadcaster's best-loved shows including This Morning, Loose Women, Coronation Street, Emmerdale, Coleen's Real Women, and Britain's Best Dish. Before joining Goodto.com she was also a Features Editor at MSN UK and Digital Lifestyle Editor for the broadcaster UKTV. She's also contributed to The Mirror, The Sun, LoveFood, LoveExploring, and TBSeen.