'It's heartbreaking. Homework really has changed my six-year-old daughter'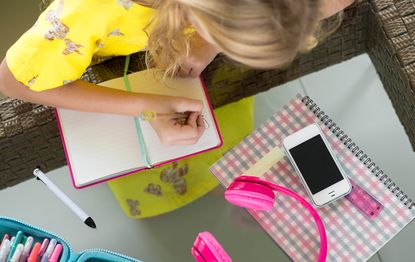 (Image credit: REX/Shutterstock)
If you ever feel like your child has too much homework you're not alone. Last year, actor Rob Delaney sparked debate after complaining about the amount given to his seven-year-old son. Here, Gina Clarke reveals how the amount of homework and test revision given to her six-year-old has gradually taken over from after school activities and playtime.
As the mum of a social butterfly, it has always been a worry of mine that when it came to school and clubs, something would have to give.
When my daughter Emily was 3-years old, I gave birth to her baby brother Timothy, and from then on our relationships with clubs was born. After her half day at nursery (thanks 15-hour funding!) we would embark on a routine of ballet, gymnastics and Tumble Tots to give me a precious hour sat with a coffee and my newborn. While pregnant, I had deliberately put her name down for venues that offered a viewing window, so I could watch one while caring for the other.
By flinging my outgoing child into an environment where she had to stand up for herself and complete new tasks, all under the watchful eye of her parent, Emily began to excel in social situations. So, when the homework started to roll in, perhaps it wasn't at the top of the list.
At first, the workload seemed light. She would be asked to draw a picture of her family tree or bring a favourite toy into school. It felt manageable to keep up the clubs as well as the homework. We added Rainbows to the mix and afterschool clubs such as football and dance but I made sure to talk with the teacher and agree on how much my now 5-year old could cope with.
Read more: Should schools ban homework?
Gradually more things would be sent home, with dot-to-dot puzzles, a book to read once a week and a computer programme to help with her maths – which she excelled at. So I wasn't worried when the teacher mentioned a short phonics test at the end of the year.
We carried on with the vigorous routine of school and clubs, all the while her brother was getting bigger so I enrolled them both on back-to-back classes, hoping to make my life easier.
Towards the end of Year 1, I received a letter to say that Emily would be receiving 1-2-1 maths tuition. I questioned this, "Is she failing in maths?" I remember asking, feeling shocked as this was her forte. The teachers tried to reassure me, that it was just a way to smooth her transition into Year 2, but suddenly a resource pack with homework appeared and I would have to choose between a bath or completing it some nights after she finished her activities and eaten her dinner.
There simply wasn't enough time in the day to fill out the nightly sheets of paper. Made up of maths games and more dot-to-dot puzzles, most of them couldn't be done without adult supervision, so it wasn't even as though I could set her up and start dinner. If I'm honest we probably didn't spend as much time on them as we were supposed to.
Then the shocker, she had failed a phonics test. Those 'sound of the week' cards I thought were just for using with her chosen book were actually to be memorised! She was then tested on 20 of them without being told what it was. Knowing my daughter, she would have lost interest quickly but had she known it was a test, I'm sure she would have tried harder.
When I told her that she had failed, she was shocked and tearful. We immediately vowed to stop the clubs, and make homework the priority. My 5-year old felt like a failure. It was clear that it played heavily on her mind all summer, as my outgoing daughter suddenly realised that she might have to work at being clever after all.
Now we're in Year 2, and the clubs have slowed down while the homework has gone up. We have 3 activities a term to report on in a special record, plus nightly reading and maths and English on the computer. She still squeezes in a few after-school clubs though, such as football and Rainbows.
Read more: Kirstie Allsopp sparks controversy by branding homework a 'waste of time'
Despite the opportunities available for further clubs, we've said no. Instead, she reads me a book every night and in turn, I read her a few pages of Harry Potter. Already, we are half way through the first book.
But as the winter weather approaches and the chance to play outside disappears, I realise that friends, opportunities and the crucial ability to socialise are disappearing. Instead, she resigns herself to another hour of maths on the computer. At 6-years old, I find this heart breaking. Homework really has changed my daughter.
What do you think about the amount of homework children are being given? Do you think it's too much? Head over to our Facebook page and share your thoughts.