Presenter Simon Thomas shares heartbreak of family death a year after wife's passing
This is so sad...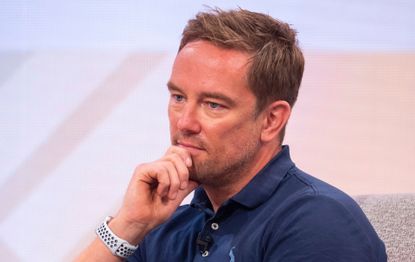 (Image credit: Ken McKay/ITV/REX/Shutterstock)
Sky presenter Simon Thomas revealed his father-in-law has died of cancer, just one year after the disease claimed the life of his wife Gemma.
Sharing the devastating news in an emotional post on his Instagram, the 45-year-old described how his nine-year-old son Ethan was struggling to come to terms with losing those closest to him.
He wrote: 'Life can feel very cruel. Last night Gemma's Dad's life reached its end as Myeloma took its final toll. It's devastating for Rebecca who in fourteen months has lost half of her family to #bloodcancer and heartbreaking for Ethan who only a month ago said, "why do I keep losing everything I love?" Now he's lost the man with whom he had the most special of relationships - the man he called 'Pompa'.'
Reacting to the announcement – which included a gallery of images of Ethan cuddling up to his grandfather – fans offered their sympathies to the TV star and single dad.
One wrote: 'oh Simon so so sorry to hear this, there are no answers. life really can be cruel. It feels like words aren't enough at times of grief, sending lots of love to all of you!.take little steps xxx'
While a second added: 'So very sorry to hear of more sadness for your family. Looks like he had a fab relationship with Ethan-that first photo in particular is beautiful. Looks like such a kind man from his expression.'
A third continued: 'So sad I lost my mum suddenly to pancreatic cancer and my brother was killed in an RTA, my nephew feels the same, as do my children hugs.'
Myeloma is a blood cancer arising from plasma cells – a type of white blood cell in the bone marrow – and affects around 17,500 people in the UK, according to charity Myeloma UK.
Like her father, Simon's wife Gemma also battled a blood cancer, dying in November 2017 – just three days after being diagnosed with acute myeloid leukaemia.
The aggressive cancer of the myeloid line of blood cells is responsible for more than 2,000 deaths each year, according to figures from Cancer Research UK.
In a post shared late last year Simon revealed that he would continue to honour his wife's memory and raise awareness of the disease by becoming the President of blood cancer research charity Bloodwise.
Freelance Lifestyle Writer
Miriam Habtesellasie is a freelance lifestyle writer who has contributed content to GoodTo, Woman&Home, Women and Idealhome.co.uk. Miriam is based in London and is a fan of everything interiors, she admits to being spoilt for choice living in the capital. From stunning architecture right the way through to eye-catching department store window displays, she believes there's always an angle to be found that can translate to our abodes.