Stacey Solomon praised for sharing bikini photo after taking baby Rex swimming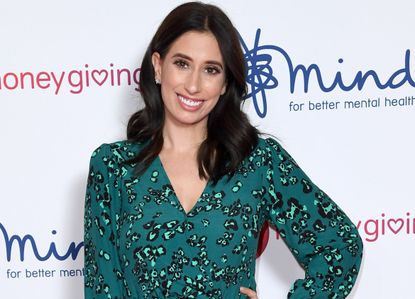 (Image credit: WireImage)
X-Factor star and mum-of-three Stacey Solomon is known for her honesty, and she recently opened up to fans about two struggles we're sure many mums can relate to.
Stacey and Joe Swash's baby Rex attended his first swimming lesson, with Stacey sharing a lovely photograph of the pair at the pool.
And Stacey smiled proudly as she held Rex, who was wearing an adorable onesie for swimming.
Stacey can also be seen wearing a bikini in the photo, with many mums in the comment praising her for the 'natural' photo.
Her caption read: 'My little water baby 👶🏻 Rex has his first swimming lesson today and he loved it (thank goodness because I was panicking the whole time🤦🏼♀)'
She added: 'I've got to admit the bit where they ask you to dunk them in the water sent me over the edge with fear but he didn't mind it at all! We worry for them don't we? The fear is never ending 😂'
Many fans commented to praise Stacey on sharing her real 'mummy bod', with one writing: 'You look beautiful and thank you for making my mummy tummy isn't as gross as I feel'
Another added: 'What a natural photo ....... beautiful inside and out'
One fan even praised Stacey for helping to make motherhood 'easier', saying: 'You honestly make being a mum so much easier for me this time round ♥️ our babies are a similar age and I look forward to your posts so much thank you'.
Recently, Stacey Solomon also opened up on her Instagram stories about how her mental health was before and after the birth of Zachary 11 years ago.
Read more: Stacey Solomon opens up about 'gut wrenching' day sending her son to secondary school (opens in new tab)
Speaking about her experience with pre and postnatal depression, Stacey honestly said: '11 years ago when I had Zachary I really really struggled with my mental health and how I felt afterwards. I think through all of my pregnancies I've definitely not felt the way that I thought I was going to feel.
'The advice and the support and the services that I've received has changed so much from Zachary to Leighton to Rex, it's got so much better and I think that's mostly down to charities, organisations and people raising awareness to post and prenatal depression.'
The star revealed that she'd partnered with charity Seven Seventeen to create a candle where funds would go straight to their charity, to support those with mental health. She emotionally revealed it had sold out in just half an hour.
'I honestly cannot believe it. You have no idea what this means to so many people. I'm having a cry on the toilet @sevenseventeenuk are replenishing stock as we speak so I'll let you know as soon as they come in and you can buy them again.
'I love you all, the power of coming together to support each other and look out for mammas everywhere is incredible. I can't thank you enough. Bring on the restock', she said.