Stacey Solomon opens up about 'gut wrenching' day sending her son to secondary school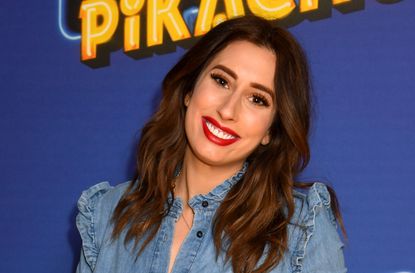 Stacey Solomon has revealed that she found it incredibly difficult to watch her son Zach get ready for school after he was home-schooled for two years.
It's been an emotional week for parents as their children return back to school after the summer break.
And it's been no less poignant for celebrity parents, as stars like Holly Willoughby (opens in new tab) and Stacey Solomon have recently taken to social media to share their experience of their children's first day.
The Loose Women star has always been candid about motherhood, and in a new post she revealed how difficult she found it watching her son Zach, 11, get ready for his first day of secondary school after she home-schooled him for two years.
Sharing an adorable photo of young Zach to her Instagram account, the 29-year-old told her 2.1 followers: 'And so it begins…A whole new world. The beginning of adolescence.
'Will the gut wrench ever ease?' she wrote, before adding: 'I've had the most amazing two years with you. Home education has been all that I imagined and so much more. It wasn't always easy but it was always rewarding. I know that you can do anything you put your mind to, and you've put your mind to going to secondary school so I know you'll be brilliant.
Read more: Stacey Solomon reveals breastfeeding joy after suffering 'bleeding nipples' (opens in new tab)
'I'm nervous, excited and everything in between but I know this is what you need and as much with you, I know I have to let you go.'
The presenter concluded by wishing her son good luck and expressing her anxiety that she'd forgotten to pack something in his school bag.
'He's as prepared as is physically possible,' she continued. 'And I still feel like I've forgotten something.'
Read more: Fans praise Stacey Solomon for sharing her post-partum body in an 'inspirational' bikini snap (opens in new tab)
Fans were quick to sympathise with mum-of-three Stacey and wished her and Zach all the best for his first day of secondary school.
'Have a fabulous day Zachary. Hope not too many tears Stacey, he will be home soon. Hugs x,' wrote one fan, while another added: 'That's so sweet Stacey you're such a great mama good luck.'
How sweet!