Loose Women's Stacey Solomon reveals the important reason why she won't tickle her children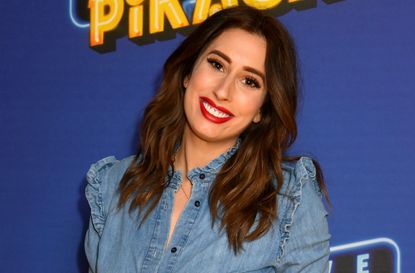 Stacey Solomon has revealed she won't tickle her children if they ask her to stop, as she's trying to teach them an important lesson about consent.
The 29-year-old who is mum to sons Leighton, seven, and Zachary, 11, and new arrival Rex (opens in new tab), who she has with boyfriend Joe Swash, was discussing consent apps on the ITV Loose Women panel yesterday.
During the conversation, Stacey revealed she won't go against her children's' wishes when it comes to play tickling.
'I was saying to you guys earlier, I've got a real thing with the kids.
'If I'm tickling them, and I used to just carry on tickling them even when they were like, ''no stop, stop'', and I've really had to think to myself about what that means to them.'
But now Stacey admits she has had a change of view. 'When they are saying no and stop, I feel like actually there has got to be a line and there has to be a boundary somewhere.
'Because they need to learn at that really young age that no means no and that it's not just a joke.'
Earlier this year, Russell Brand also expressed his views about tickling young children. The 43-year-old comedian called for tickling children to be outlawed until they are old enough to consent because it 'violates their space'.
He pledged to 'punch' anyone who tickled his two daughters Mabel and Peggy claiming the play act 'violates their bodily autonomy'.
Russell told The Daily Star, 'It is an attempt to subvert the child's bodily autonomy, to take away their right to their own space and peace.'
Further explaining his views, the star argued: 'Would you do it to an adult? Would you insert your rigid fingers into their belly or their armpits? Of course not.'
Russell also admitted he regrets tickling comedian David Baddiel's son Ezra in the past. He said: 'To recall doing this to Ez fills me with dreadful shame and makes me want to punch myself in the face.'
Dr Lin Day, child development expert and founder of Baby Sensory (opens in new tab), told GoodtoKnow: 'The most important guideline in touching young children is in respecting their likes and dislikes. Most children enjoy being tickled, but they also have the right to decide who tickles them and when, where and how.
She continued: 'If the child consents to being tickled, but then says "Stop", the tickling must stop. Stopping teaches children that their feelings are respected and valued. If anyone makes the child feel uncomfortable or fails to listen when they say "No" or "Stop", they must tell a trusted adult."
She also added: 'Tickling needs to be avoided in erogenous zones such as the inner thighs, groin, buttocks or breast areas because it could leave children vulnerable in allowing unwarranted sexual advances in the future.'
What do you think about the issue? Head over to our Facebook page and let us know.
Sibelle Mehmet is a Junior Digital Writer at Goodto.com. She joined the team in April 2019 and was her first job since completing a MA in Magazine Journalism at City, the University of London in the summer of 2019. Sibelle previously interned at a number of national titles including OK!, Heat, Closer, Mother & Baby, and The Times Newspaper magazine. She's written extensively about the latest celebrity, showbiz, and royal news.