Tamara Ecclestone on why she's still breastfeeding her four-year-old daughter Fifi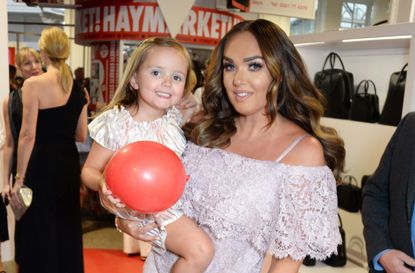 (Image credit: Getty/David M. Benett)
GoodTo newsletter
Sign up to the GoodTo Newsletter. You can unsubscribe at any time. For more information about how to do this, and how we hold your data, please see our privacy policy
Thank you for signing up to . You will receive a verification email shortly.
There was a problem. Please refresh the page and try again.
Tamara Ecclestone has opened up about still breastfeeding her four-year-old daughter Fifi, saying she can't comprehend why people get so 'heated' about it.
The mum-of-one welcomed her first child four years ago, and hasn't stopped breastfeeding (opens in new tab) since, which has attracted a lot of criticism from people who do not agree with extended breastfeeding.
However, the mum has now revealed that it was never her plan to breastfeed for this long. Speaking to Grazia, the mum said: 'I never set out to do this – there was no agenda.
'I didn't expect to breastfeed for as long as I have and I never imagined I'd breastfeed for four years but it's been the best experience I've ever gone through... It's a bit of a running joke in the family – but they don't mean it in a bad way. They are 100% supportive. I guess they chuckle to themselves about it because when I was pregnant, they'd say, "Trust us, you're really going to take to breastfeeding." And they were right – they know me better than I know myself.'
When discussing the criticism she's got in the past every time she's spoken out about still breastfeeding her daughter, she said she doesn't understand why people get so heated about it: 'It's just feeding a baby – it's as simple as that.'
https://www.instagram.com/p/BTRWgK4D7C8
Tamara also opened up about the judgment parents often get around so many topics, from breastfeeding to potty training, saying that she finds people so 'judgmental' 'astonishing'.
She said: 'Breastfeeding is so divisive as an issue but it's surprised me how judgemental parents can be with everything from potty training to other milestones. Until you're a parent you don't really get it. I find it astonishing that mums can be so critical of each other – there's no need for it. Whether you pump, use formula or exclusively breastfeed, we're all feeding our babies. Hopefully when Fifi is a mum, it won't even be an issue.'