UNO creators spark debate after revealing you can't stack +2 and +4 cards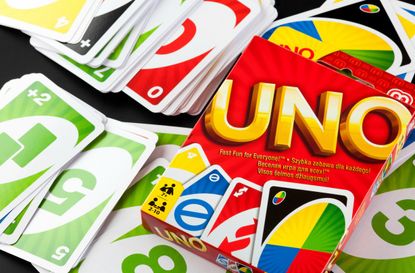 GoodTo newsletter
Sign up to the GoodTo Newsletter. You can unsubscribe at any time. For more information about how to do this, and how we hold your data, please see our privacy policy
Thank you for signing up to . You will receive a verification email shortly.
There was a problem. Please refresh the page and try again.
The creators of Uno have set the record straight by revealing you can't stack the +2 and +4 cards on top of each other.
The classic card game is a favourite all over the world – and, of course we all know it sometimes leads to family wars, and a test of friendship.
But, it turns out you may have been playing the card game wrong.
UNO creators have revealed a little-known rule about the cards +2 and +4, which has sparked controversy among game players.
UNO took to Twitter to confirm the rule that when a player puts down a +4 card, the next player must draw four cards from the pile and skip their turn.
You cannot put down a +2 card to make the next personal draw six cards.
UNO wrote: 'If someone puts down a +4 card, you must draw 4 and your turn is skipped. You can't put down a +2 to make the next person Draw 6. We know you've tried it. #UNO.'
The tweet has receiver over 59k retweets and 79k likes from UNO fans.
The latest UNO rule revelation comes after LaToya McCaskill Stallings took to Facebook in utter shock after analysing the card games official rulebook earlier this year.
She posted: 'So it's taken me 35 years on this earth to realize that I've been playing Uno wrong since I was a kid 😒.
'Did y'all know that you can only play the Draw 4 Wild card IF you have NO other cards of the same color that can be played??!
'AND if you suspect that someone has illegally played this card, they have to show you their hand.
'AND if they in fact played the card illegally they must draw 4, but If not, the person who challenged the play must DRAW 6?
'Ok so I was bored and ran out of things to read so I decided to read the actual rule book 😩 2018 is going to be a year of enlightenment for me I can just feel it! 😂😂😂 #yourewelcome.'
The new revelation has sent shocked Uno players into debate on social media.
One game player asked: 'But can you add a draw 2 to a draw 2??'
To which UNO bluntly responded: 'No, you can't stack cards.'
One loyal game player said: 'Ok your telling me my whole life has been a lie😫😭 I'm going to need uno directions with every scenario possible now.'
Another said: 'Now, a +4 to block another +4. card... I refuse to believe that's not allowed.'
Another said: 'Well damn I been playing wrong. But I'm not switching it up.'