Viewers left in tears over this heartbreaking Old People's Home for Four-Year-Olds moment
We're not crying...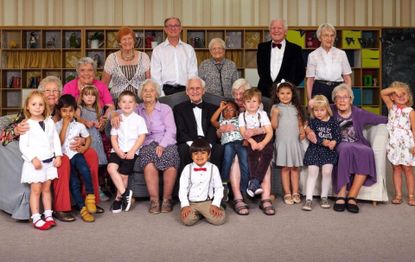 GoodTo newsletter
Sign up to the GoodTo Newsletter. You can unsubscribe at any time. For more information about how to do this, and how we hold your data, please see our privacy policy
Thank you for signing up to . You will receive a verification email shortly.
There was a problem. Please refresh the page and try again.
A heartbreaking moment on last night's episode of hit Channel 4 series Old People's Home for Four-Year-Old's has left viewers in floods of tears.
The children and adults at Lark Hill retirement village's temporary nursery were given shared responsibility for an incubator full of unhatched eggs.
But as they gathered to excitedly watch the newborn chicks break their way out of their shells, time seemed to stop when cameras panned round to the final egg.
And when the final chick still hadn't made its way into the world a few days later, it was left to the resident nursery teacher to break the sad news.
Naturally, the youngsters taking part in the three-month TV experiment – which has been designed to see if the children can have a positive impact on the older adults development and vice versa – were left confused and upset by the unexpected turn of events.
Among those who struggled to come to terms with the fine line between life and death was four-year-old Lily, who asked: 'But how can we get it out?'
It was left to 'best friend' Ken, 87, to gently set her straight with the simple words: 'We can't now, Lily. It won't hatch now.'
The poignant scene had an emotional impact on fans of the series, who took to Twitter to share their feelings.
One wrote: '#oldpeoplshomefor4yo makes me an absolute wreck'
While another added: 'Oh gosh #oldpeoplshomefor4yo is pulling on my heartstrings tonight'
Viewers were also left in tears when little Scarlett revealed her mum had passed away
A third commented: 'I will not cry over an egg… #oldpeoplshomefor4yo'
Another moment in the episode that also left viewers welling up was the sight of 102-year-old resident Sylvia refusing to give up on the possibility of miraculous turnaround in the fate of the final egg and gazing expectantly into the incubator.
One wrote: 'I'm crying at Slyvia waiting for the egg to hatch.'
While another remarked wistfully: 'Love this programme – it's so touching but it really makes me miss my Gran and want to have time with her all over again.'
What was your reaction to the episode? Have you had to have similar conversations with your children? Join the conversation on our Facebook page!
Freelance Lifestyle Writer
Miriam Habtesellasie is a freelance lifestyle writer who has contributed content to GoodTo, Woman&Home, Women and Idealhome.co.uk. Miriam is based in London and is a fan of everything interiors, she admits to being spoilt for choice living in the capital. From stunning architecture right the way through to eye-catching department store window displays, she believes there's always an angle to be found that can translate to our abodes.