Study suggests that babies born in September might be more successful than their peers
Do you agree?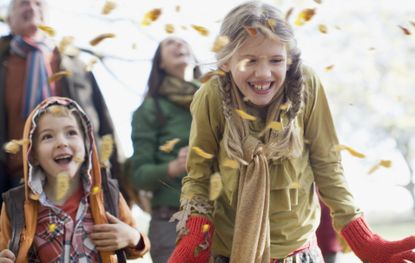 GoodTo newsletter
Sign up to the GoodTo Newsletter. You can unsubscribe at any time. For more information about how to do this, and how we hold your data, please see our privacy policy
Thank you for signing up to . You will receive a verification email shortly.
There was a problem. Please refresh the page and try again.
Good news for September babies - a new study has explained why children born in the ninth month of the year might be more successful than their peers, and it actually makes perfect sense...
Debating which month of the year is the best to be born is an age old discussion, and it tends to revolve around personal preferences like seasons, holidays, events (who wants a Christmas birthday?).
But it turns out that science might have settled the old argument once and for all, as researchers found a link between babies born in September and how successful they are later in life.
The study, conducted by the US National Bureau of Economic Research, collated research from the University of Toronto, the University of Florida and Northwestern University which analysed the cognitive development of 1.2 million school children to determine which month seems to produce the cleverest minds.
The study ultimately discovered 'a positive relationship between school starting age and children's cognitive development from age 6 to 15'.
Researchers found that starting school a little later in life could have a positive effect on a child's cognitive development, and could even increase the likelihood of a child going to university, as well as reduce the likelihood of incarceration.
Image: Giphy (opens in new tab)Beyonce is famously a September baby
As children born in September are more developed than children born in August, for instance, that means they probably have a leg up on children who are younger but are in the same class.
Interestingly, the study found that while September babies had a higher grade average than those with birthdays during other months, classmates born 11 months later in August had the lowest average, appearing to support the theory.
Don't let anyone born later in the academic year be disheartened by the findings, however, because the study also reports that the 'under-performing' children will eventually catch up to their older counterparts.
It's not the first time September babies have been flagged up by studies as being potentially more successful than then Spring and Summer peers.
Read more: Trying for a baby? December 11 is the most fertile day of the year (opens in new tab)
According the BBC, who analysed data obtained from Oxford and Cambridge universities under the freedom of information act, autumn births were 25 per cent more likely to get an Oxbridge place compared to summer-born applicants. Winter and spring births were 17 per cent and 15 per cent more likely to get places, respectively, than summer-born hopefuls.
Of course there are many other factors that contribute to a child's development, but sounds like September babies could have a natural advantage - well done, Virgos.
Were any of your children September babies? Let us know in the comments!
Freelance Lifestyle Writer
Niamh McCollum is a freelance lifestyle writer who has written for Future titles GoodTo and Marie Claire UK, plus the Irish Independent. The Dublin-based journalist specialises in stories
affecting families - from health updates, to the freshest parenting debates and celebrity announcements.