We earn a commission for products purchased through some links in this article.
A couple whose pregnancy announcement went viral have announced that they're expecting again – just two months after announcing a previous miscarriage.
Sam and Nia Rader, who run a popular family-orientated YouTube channel of the same name, hit headlines at the beginning of August, when a video of Sam telling Nia that he knew she was pregnant after doing a pregnancy test in an unflushed toilet received more than 15 million views.
However, just three days later, the couple posted a follow-up film titled 'Our baby had a heartbeat', telling their viewers that they had sadly lost the child that Nia was carrying.
In the emotional video, Nia told viewers that she 'felt empty', and 'that's the hardest part, just knowing that it's really gone', whilst Sam explains that they're 'so hurt, but so thankful that God used them like this.'
The couple were seen in tears as they filmed their sad announcement on 8th August
Two months later, the pair, who already have two children, Symphony and Abram, are back with a new video, telling their mothers that they're pregnant again by using a literal bun in the oven to share the happy news.
'We feel beyond blessed that God has given us another baby so soon after suffering a miscarriage. I think our moms were just as thankful,' they wrote in the caption for the 6-minute clip.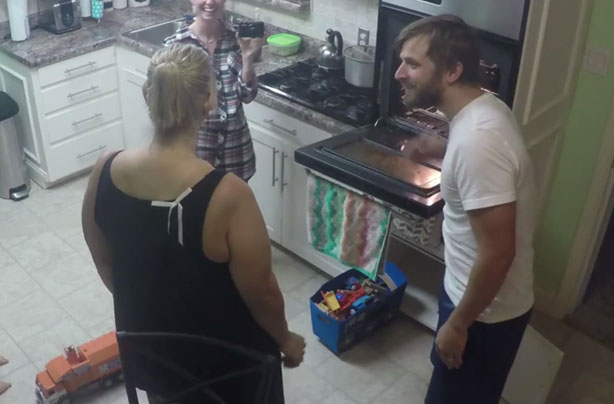 Sam and Nia surprise their mothers by hiding a bun in their oven to announce their pregnancy, prompting tears of joy from both parents
The film also shows the couple building a treasure hunt of baby products for their eldest child Symphony, with Nia lying on the floor at the end saying that the surprise is 'just her tummy'.
'There's a baby inside it?' her daughter asks excitedly, as Sam confirms 'that's your new brother or sister.'
Watch Sam and Nia's pregnancy announcement in full