'She's bringing a monster's child into the world!' Fans defend Ferne McCann after cruel trolls taunt her on Twitter
The reality star has had a stressful pregnancy after splitting from the baby's father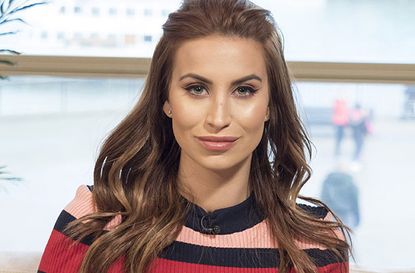 Fans of Ferne McCann have rallied around the reality star after cruel trolls on Twitter accused her of 'bringing a monster into the world'.
Ferne has publicly struggled with her first pregnancy, after her traumatic split from the baby's father, Arthur Collins, back in April following a dramatic acid attack on a nightclub in East London. He's been charged with 14 counts of GBH, along with another male.
But in recent months she seems to have settled into her pregnancy and her future as a single mother, proudly showing off her bump on Instagram, with her close friend Vicky Pattinson calling her 'absolutely glowing'.
Which is why a seemingly unprovoked Twitter attack on the mum-to-be has had dozens of fans jumping to her defence.
One Twitter user Jasmin Lennard, who has previously appeared on Big Brother, Tweeted Ferne: 'How you sleeping at night @fernemcann? Just curious. Any concerns after your boyfriend injured blinded and disfigured 22 people with acid?'
But as if the tirade wasn't enough, some others even commented agreeing with the nasty Tweet.
'Absolutely agree!!!' said one. 'She's bringing a monsters child into the world! She loves it.'
And other said, 'Having a kid with that plastic gangster is like having 1 with Jimmy Saville or Pierse Morgan.'
Ferne herself has kept a dignified silence on the thread, but did sneakily 'like' one fans defensive comment.
'You do realise that stress can cause miscarriage and she's had enough of that already without your nasty comments impacting her more,' they said.
Another said, 'That's just out of order, she's not with him, she's trying to live her life for the baby. No need to pick on a pregnant woman really.'
'Pretty sure she should be sleeping fine,' said another. 'She didn't do it so she shouldn't feel any guilt.'
A fourth added, 'It's not her fault is it? She's didn't do it!'
The tweet has now been deleted and at the time of writing Jasmin's account has been suspended.