Dad accused of fat-shaming 4-year-old son after saying he doesn't care what he becomes 'as long as he isn't overweight'
He called his four-year-old son 'fat little bastard'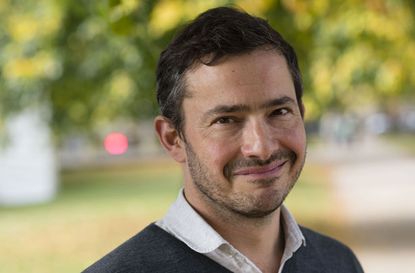 A dad who wrote a column about not wanting his son to be overweight is facing backlash on social media over his 'vile' and 'fat-shaming' article.
In a column for men's magazine Esquire, columnist and restaurant critic Giles Coren opened up about how he doesn't want his son to be overweight when he's older.
Even though he starts by saying that his son is 'a good-looking boy' on the whole, he then adds that 'he's fat', before calling him 'fat little bastard' and a 'chubby f*cker' throughout the piece.
'Arse on him like Vanessa Feltz and a full frontal presentation at bath time that puts one in mind of a Gavin and Stacey-era James Corden or a well-waxed Christopher Biggins, all giggly on too much rosé', the dad wrote about his four-year-old son Sam.
He then goes on to say that he doesn't care what he becomes later in life, as long as he's not overweight.
Giles' wife and his two children
'It is no business of mine what Sam does with his life. I'm not ultimately bothered whether he's rich or poor, artist or scientist, crackhead or alcoholic, married or unmarried, gay or straight...
'I don't care if he runs every letter of the LGBTQI spectrum to the end and back, and comes home with a cock in every hole and says he's changed his name to Rita. As long as he isn't fat.'
The controversial opinion piece didn't go down well with many people, who took to social media to criticise the writer for fat-shaming his own son.
One wrote on Twitter: 'Giles Coren is f*cking vile. He'll get his comeuppance when his kids f*ck off one day because they've realised what a prick their dad is and he's the reason they've got so many issues.'
A second said: 'Encouraging fat-shaming and fatphobia is not the way to create a healthier society. Your article was unnecessarily mean, and ignorant.'
A third Twitter user also commented: 'This is a vile, homophobic, sexist, body shaming 'article' by @gilescoren The fact it's written about his own son is the saddest part. He uses actual phrase 'I don't care if he comes home with a cock in every hole'. This is about a little boy. He might not drain NHS of resources for obesity problems when he is older but may need their mental health services. Shame on you @esquire .'
Many were also criticising Esquire for publishing the 'vile' article: '@EsquireUK you should be ashamed of yourself for allowing such terrible words to be written & published about fat people by @gilescoren ... that is NOT a way to get people to be healthy- only to encourage self hatred, which, by the way, can lead to obesity. 🙄'
Responding to the fact that Giles referred to his son as 'retarded', one Twitter user wrote: 'Giles Coren, not content with merely fat-shaming his own son for money, casually throws around the word "retarded". Because he's an awful human being.'
However, not everyone was against the dad and some agreed with his point about overweight children.
One said: 'I don't see what's wrong in Giles Coren not wanting his kids to be fat? Obesity is an unhealthy trait, y'all are way too sensitive. If you're so insecure about being unhealthy, the best way to solve that is to stop eating junk food 24/7 and hit the gym.'
As well as sparking controversy on social media, the article has fuelled a petition (opens in new tab) to get Giles Coren fired from his role at Esquire.
The petition, which has been signed by over 8,000 people so far, reads: 'The piece should be taken down immediately (which won't save all the fat children and adults who will be subjected to its abuse in the print version of the magazine.)
'But we must go farther than that - the truth is that this piece is hate speech, including violent hate speech, and people who perpetuate violent hate speech should not be given a platform to do so by Esquire UK. Esquire UK must take the piece down and fire Giles Coren immediately.'
People supporting the petition have also commented to explain their decision, with one saying that justifying it as a joke is not acceptable.
'It's too easy to say 'it was just a joke'. It's not a joke when it's all you've heard your entire life', Chantelle Charnley from Accrington wrote.
Do you think Giles' comments should be taken as a joke or do you agree with the criticism he's facing? Let us know your thoughts in the comments section below.
Trusted, informative, and empathetic – GoodTo is the ultimate online destination for mums. Established in 2007, our 15-year-strong archive of content includes more than 18,000 articles, 1,500 how-to videos, and 7,000 recipes.