'No one forced you to have children' Giovanna Fletcher blasts hurtful comments from online trolls
The author and mother of two hit back with a positive attitude.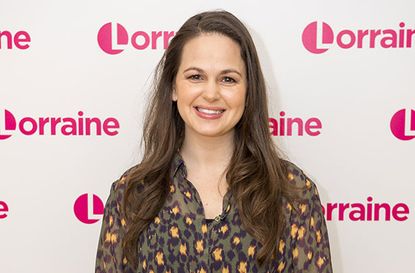 Giovanna Fletcher has addressed some of the most negative comments written about her by online trolls, posting her responses to their criticism on social media.
The mum of two posted to her Instagram account a lengthy message yesterday taking on board some of the meanest comments written about her on the internet.
Known for being married to frontman of pop band McFly, Tom Fletcher, Giovanna is used to being in the spotlight, but it seems that sometimes the attention this brings can be more bad than good.
The 31 year old made a montage of some of the worst comments she had read about herself, including 'No one forced you to have children', 'I can't stand this woman's 'poor me' attitude. It's so negative!' and 'Oh please! You are married to a wealthy pop star, life is hardly a daily struggle for you. Why is she even being asked for her opinion in the first place, she's not famous or achieved anything special, all she has done is married a celeb!'
Also an author of four books so far, Giovanna was criticised for her writing with one commenter writing, 'She had a ghost writer and only got the book gig through connections.'
Finally, she included one last comment that was aimed at her appearance, simply reading, 'Massive forehead, fringe required.'
Giovanna decided to address all the criticisms made, writing a lengthy caption to give her opinion on each of the 'four great points made'.
'1. No one forced me to have children (this is very true)'
'2. I'm not famous so my opinion doesn't matter. (I do not care for fame, although fame and having an opinion of weight shouldn't necessarily come hand in hand anyway - there are some really famous nitwits out there. Plus, I married my best friend, not a celeb)'
'3. I actually just get others to write my books... (erm... I wouldn't put anything out there with my name on it unless I'd written every single word on the inside. I'm not selling merchandise or after an easy buck.)'
'. My looks are offensive. (Well, it's an opinion.) These are just four of quite a few nasty and mean comments from strangers left on an article about today's show (which was fun and positive). Clearly they don't like me - that's fine. Not everyone is going to like me, that's something I've come to accept (finally). But this is why I tell myself not to go into the comment sections. I find myself scrolling through and reading words like these, their negativity hitting me hard. My chest sinking. My shoulders curving. The sadness striking as I start to believe the words I read. No. no. Not today.'
Hitting back at her critics with a positive attitude she finished her post explaining that she hopes to see the best in people, 'I believe in the good of people. That people should show love and respect, not sit at keyboards bashing out hate and judgement. I do not judge others.
'I understand that everyone is entitled to live in a way they wish to. Yet I will not enable this bunch to dampen my heart or stop me connecting with so many people on social media. Love! Love! Love!'
Before finally signing off with a tongue-in-cheek reference to getting a fringe cut, 'Anyway, I'm off to moan a bit, ask my 'connections' to get me a ghostwriter, and cut in a fringe. (Can't believe I wasted a nap time writing this!)'
With the post already reaching 28k likes, it seems her fans are behind her with followers commenting messages of support such as, 'Ignore them. Jealousy is a terrible emotion. Stay strong. You're beautiful and an amazing author. Have a lovely day xx' and 'Your amazing!!!!
'They are all probably sat at home with nothing better to do, no talent, no family! Your perfect as you are. X'
Trusted, informative, and empathetic – GoodTo is the ultimate online destination for mums. Established in 2007, our 15-year-strong archive of content includes more than 18,000 articles, 1,500 how-to videos, and 7,000 recipes.