'A tiny part of me was worried' Giovanna Fletcher opens up about Buddy's slighter slower speech development
The mum is currently expecting her third child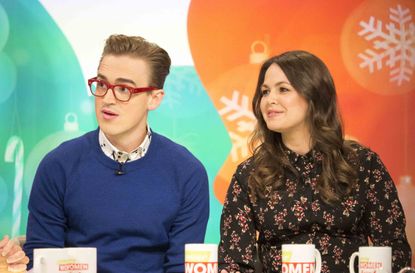 GoodTo newsletter
Sign up to the GoodTo Newsletter. You can unsubscribe at any time. For more information about how to do this, and how we hold your data, please see our privacy policy
Thank you for signing up to . You will receive a verification email shortly.
There was a problem. Please refresh the page and try again.
Giovanna Fletcher's latest Instagram post discussing her youngest son's slower development has struck a chord with other parents and they're reassuring the star that she's not alone.
Giovanna Fletcher is pregnant with her third child with husband Tom and regularly posts about family life with her two sons.
In one of her latest posts, Giovanna explains that although she knows she shouldn't compare her children's milestones, sometimes she cannot help it.
The mum revealed that seeing her youngest son Buddy's speech develop slower than four-year-old Buzz worried her at first.
Posting a video of two-year-old Buddy playing and showing more enthusiasm for conversation, Giovanna wrote: 'Even though I know we shouldn't, and that every child develops at their own pace, sometimes it's difficult not to compare when the boys have reached different milestones. Until a month or so ago Buddy wasn't really interesting in talking. He'd say the odd word but nothing really beyond that.'
She continued: 'A tiny part of me was worried, but I could clearly see that he completely understood what I was staying and was able to follow simple instructions. He had developed other ways to communicate that we understood, and our little explorer was far too busy discovering what he could do physically.
'It's been amazing to see his language come on in the last month. He repeats everything we say and has even started putting together short sentences. What a treat it is to watch him grow and learn. Xxx'.
Giovanna's fans were quick to thank her for sharing this insight and said it put them at ease knowing she also had these concerns. Several also shared their own experiences, which must have reassured Giovanna too.
One parent said: 'Reading this and all these lovely comments has made me feel so much better. My 3 year old was delayed with her speech, she went through phases of talking and learning new words and then suddenly silence.
'I was worried and I was stressed and questioning myself as a parent. Every kid is different and parents worry but they will all get there 👍🏻'.
Another wrote: 'I have 2 boys who are 13 months apart and my youngest didn't start talking until the oldest started nursery I was worried but he turned out fine. Now he's started he won't stop and the endless questions begin 😊.'
A third commented: 'They all get there in their own time 💙'.