Giovanna Fletcher reveals son Buzz made her cry by saying he wants her to 'play' more
Giovanna Fletcher was reading Buzz a story and his sweet reply to her question left her in tears!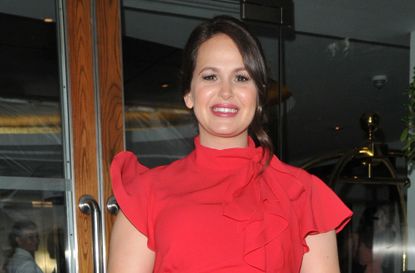 GoodTo newsletter
Sign up to the GoodTo Newsletter. You can unsubscribe at any time. For more information about how to do this, and how we hold your data, please see our privacy policy
Thank you for signing up to . You will receive a verification email shortly.
There was a problem. Please refresh the page and try again.
Giovanna Fletcher is over the six month mark of her third pregnancy and is likely to be feeling more emotional than ever.
If being pregnant wasn't enough, the best-selling author also revealed that she had fractured her toe (opens in new tab) just a few days before flying for a family trip to Italy.
Giovanna and Tom have been posting lots of adorable pictures from sunny Italy on their Instagram accounts, but one of Giovanna's most recent picture captions has struck a chord with other working mums.
The picture shows Giovanna smiling as she sits back on a sun lounger, holding her bump and you can see Tom in the background with two-year-old Buddy and four-year-old Buzz.
Giovanna explains that she has felt a mix of excitement and frustration over the holiday as she was so looking forward to the break but has been limited in what she can do with the boys while she rests her foot.
She wrote: 'Love this pic. All of us, captured by my uncle. I've been looking forward to being away from my desk and "out of office", and I must admit I've been getting quite frustrated that I've not able to get up and run around with the boys, or, at the very least, sit and build sandcastles with them thanks to my injury.'
Giovanna then revealed that when reading Buzz his bedtime story, the four-year-old broke her heart and left her in tears because he said he wished she could play more.
She said: 'Tonight we were reading Peppa Pig's Family Computer. When we were reading about Mummy Pig having lots of important work to do, Buzz said he didn't like it when I had lots of important work to do. He said he wants me only to do a little bit. When I asked what he wanted me to do instead he replied simply 'play'. I cried.
'I was looking forward to doing just that on this trip and instead have been forced to rest up and protect my broken toe. That said, I'll be running around with them soon enough, and it's been great to just sit and watch them interact, play, explore and discover. Xxx'.
Several parents have written on the post and revealed that they have felt the same guilt as Giovanna but that at the moment the best thing for her to do is ensure she fully recovers.
One person wrote: 'Mum guilt gets us all. You look amazing btw! 😍'.
Another said: 'Ahhhh motherhood! It's so emotional. You are so loved by your boys (because they will want your attention 24/7 no matter how much you give) & you are also such an inspiration to them (of what an ambitious and productive woman looks like). You are wonderful 💖'.
A third added: 'Great photo! The guilt never ends but just look at that photo and see that the boys have a wonderful dad who gives them all the love and attention too. They're very lucky boys! Hope you're better soon. xxx'.
Rest up Giovanna, soon you'll have a third bundle of joy to run around after!