'Because pregnancy isn't hard enough' Pregnant Giovanna Fletcher reveals she's fractured her toe
Pregnant Giovanna Fletcher has fractured her toe after a busy morning and missed Sport's Day because of it!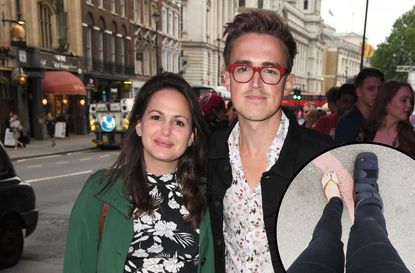 GoodTo newsletter
Sign up to the GoodTo Newsletter. You can unsubscribe at any time. For more information about how to do this, and how we hold your data, please see our privacy policy
Thank you for signing up to . You will receive a verification email shortly.
There was a problem. Please refresh the page and try again.
Giovanna Fletcher revealed that she had fractured her toe after a busy morning with an Instagram post showing off her foot brace.
Giovanna and Tom Fletcher announced they were expecting their third child together back in March. The couple often post on social media and shine a light onto how they juggle their professional and family lives.
The last few weeks have been particularly busy for Tom and Giovanna as they've been busy promoting their new book. Giovanna, who is now well over the half way mark in her pregnancy, admitted earlier in the week that she had been feeling unwell and was exhausted.
To make her week worse Giovanna revealed that she had fractured her toe after running around like a maniac – a feeling many mums can relate to.
Taking to Instagram to show off her new foot brace, Giovanna wrote: 'Hands up if you were running around like a busy bee this morning, stubbed your toe, fractured said toe, missed sports day and are now donning a fancy new boot... 🙋🏻 ♀️🤦🏻 ♀️😫 silly silly silly... there have been no tears yet. Just lots of swearing. 🙈 xxx'.
She then followed the post up with a picture of her x-ray with the simple caption: 'Ouch! 🤦🏻 ♀️Xx'.
Supportive husband Tom was on hand to help Giovanna and to make a little joke about the whole situation. He had previously posted about Giovanna's insistence at gardening while heavily pregnant so it's likely he wasn't impressed with her latest injury.
Posting a picture of his wife with her crutches, Tom wrote: 'Because pregnancy isn't hard enough... 🤦🏼 ♂️'.
Lots of Giovanna and Tom's fans and followers have reached out to the stars to wish her a speedy recovery.
One person wrote: 'Oh no!! Poor mama! I hope you rest!! ❤'.
Another said: 'Rest up, I hope you feel much better soon @mrsgifletcher 💕'.
Giovanna also posted a sweet picture of her with Buzz and Buddy who were 'helping mummy recover'. She thanked everyone for their kind comments in another video and said: 'Thanks so much for all your lovely comments today. Many people have said "I think this is nature's way of telling you to slow down" I think it was just me being an absolute plonker and walking too fast.'
Despite blaming herself for being silly, Giovanna did admit that she's finding it tricky to walk so she's borrowing her friend's crutches and bossing Tom around as much as possible.