We earn a commission for products purchased through some links in this article.
A couple decided to share their baby news with the soon-to-be grandparents on video, and the outcome is hilarious.
The video, which captures the reaction of the grandparents-to-be when they learn their daughter is pregnant, is going viral with over 1.5 million views on YouTube in just three days – and it's all because of the grandfather's amazing reaction.
The couple got the idea for their cute pregnancy announcement from a game Jimmy Fallon plays often with guests on The Tonight Show, The Whisper Challenge, in which one person tries to guess what the other person is saying while wearing noise-cancelling headphones.
It only took the mother a few seconds to understand what was going on, but the dad got really into the game and continued playing, completely clueless to what was happening.
'My mom is amazing at reading lips but as you can see my dad does not find reading lips as easy,' said Alexa, the mum-to-be.
After a few failed guesses, from 'You are going to the beach' and 'I am going to behave', the son-in-law starts to say the news out loud.
His father-in-law is still in competitive mode though and continues to obliviously play the game.
Until he finally gets it. YOU ARE GOING TO BE A GRANDFATHER.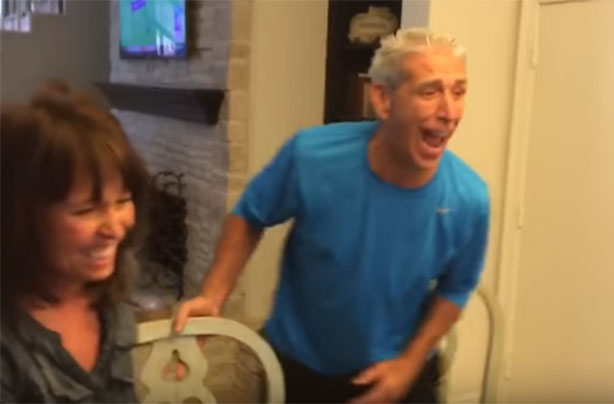 Speaking to BuzzFeed News, Alexa said the news were specially surprising for her parents because they were told by doctors it would take her while to conceive.
The idea to do the announcement with a game came from family traditions and they really wanted to make it special because it's their first child.
'We are a very close family and we have grown up our entire lives having family game days. We really wanted to tell them in a special way especially since this would be their first grandchild,' Alexa said. 'I cannot wait to see them as grandparents because I know they will be amazing.'
She also spoke of the internet's reaction to their video: 'The results were better than we expected and it is definitely something we will remember for the rest of our lives.'
The expectant mum added that both her parents are very excited about having their first grandchild. Really? We couldn't tell from their reactions…