We earn a commission for products purchased through some links in this article.
Normally families have nine months or so to prepare for a new addition to the family, but grandma Sharon Bloomingdale had less than 9 seconds.
In a new Youtube video which captures the moment Sharon finds out she's become a grandma, the 61-year-old is at work in Ohio when her daughter, Laura Dell, 32, turns up to 'deliver her an anniversary present'.
In the 1-minute-clip, which has been warming hearts across the internet, Laura tells her mum; 'I have a gift for you' and passes her a small paper bag.
'You have a baby in there?' Sharon jokes – but as she unwraps the present, she finds a baby grow and instantly becomes hysterical.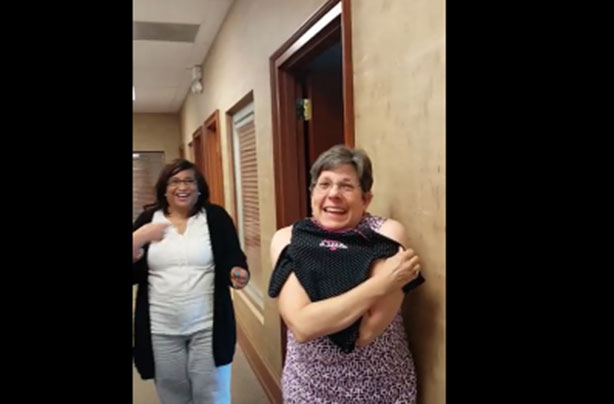 Her proud daughter then beckons her across the room and says; 'Come meet your granddaughter'.
The new parents, Laura and her husband Josh Dell, 34, are not biologically able to have children and had been trying for years to start a family of their own.
They couple were only been approved for adoption three weeks before they were matched with their daughter, Ellie, who was born in May, and then placed by the adoption agency.
Because the process all happened so quickly, they were able to keep it secret from Sharon, who herself is adopted.
As the new grandmother approaches the sleeping infant in a car seat she says 'she's so pretty' before Laura says 'sit down on the couch mom so you don't pass out'.
Laura told The Huffington Post; 'After the video ended, she walked around the office with Ellie and told everyone, 'When I came to work this morning, I wasn't a grandma and now I am.'
The emotional video has already received over 1.2 million views.
Laura and Josh, who met at a church youth group when they were teenagers, were initially hesitant about posting the video online but decided to in support of National Adoption month, which happens in November in America.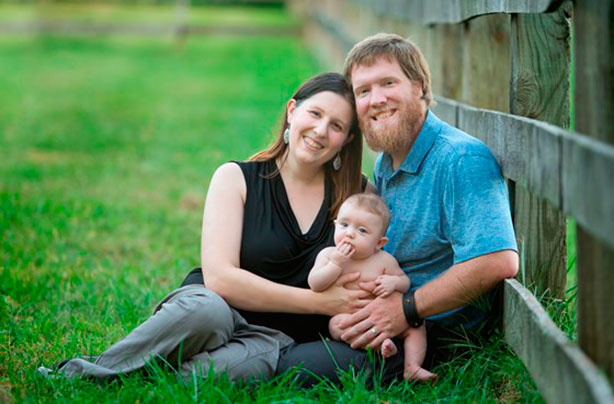 Image: You Caring/Josh and Laura Dell
Josh and Laura with their new daughter
They wanted to highlight the beauty of adoption; 'It'll be great for Ellie to see the video when she grows up and know that grandma loved her even before she got to know her.'
The Dells helped pay for their adoption process through an online fundraising campaign.
Watch as Sharon finds out that she's become a grandma!