Call the Midwife's Helen George says she was fat shamed during her pregnancy
The Call the Midwife star responded on Twitter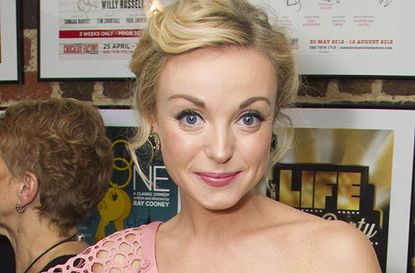 Call the Midwife's Helen George has revealed she was fat shamed while pregnant, after hitting back at viewer that said she should be 'put on a diet'.
The actress welcomed her first child (opens in new tab) last October, but now she's opened up about how she was fat-shamed during her pregnancy.
The star's heartbreaking confession came after an episode of Call the Midwife, when a viewer tweeted to say: 'Helen George is massive. She should be put on a diet. #callthemidwife'.
After someone responded to the viewer's tweet to say she was pregnant at the time, he replied: 'Mmm, obviously used it as an excuse to gain all them chins. #callthemidwife'.
Responding to the tweet, the 33-year-old wrote: 'Sorry if my chins offended you, I chose to feed my baby healthily and not starve myself in a selfish act to look good on tv.
'Would you say this to a pregnant lady's face? You should look on pregnant ladies multiple chins with love, they are busy making the future'.
Despite the negative comment, one fan tweeted the new mum to say: 'Nicely put, although he doesn't deserve your time beautiful lady xx'.
Responding to the fan's tweet, Helen confessed that she's been getting many similar comments, and said she felt like fat-shaming is a general feeling towards pregnant women.
'Oh I know lovely, but so many comments like that come my way 🙄 so boring. It's about a feeling toward pregnant women, that we should all stay skinny', she wrote.
Helen was pregnant with her first child with co-star Jack Ashton while filming series seven of Call the Midwife, but the pregnancy was not written in the storyline.
Helen revealed she was pregnant (opens in new tab) at the TV Choice Awards in September
The TV star revealed she was pregnant when she appeared with a baby bump on a red carpet in September.
A month later, the new mum shared pictures of her baby on Instagram, revealing that she had welcomed a baby girl.