'Please, be kind' Holly Willoughby urges fans to help fight bullying in powerful video message
She features in the campaign alongside other This Morning stars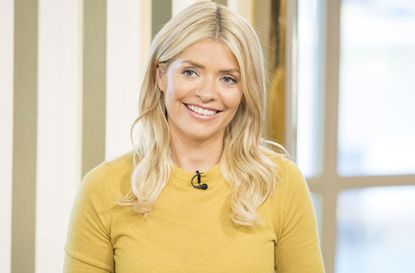 Holly Willoughby has launched a moving campaign against bullying alongside other This Morning stars, in which they urge fans to 'be kind'.
The mum-of-three features in the powerful video used to launch This Morning's Be Kind campaign, alongside Phillip Schofield, Ruth Langsford and Eamonn Holmes.
Taking in turns to speak, the four presenters say in the video: 'Today, right across the country, there are people spending the day in fear. Too frightened to go to school. To frightened to tell anyone. Too frightened to fight back. Today, children up and down the country are being bullied.'
The clip then goes on to showcase footage of the emotional interviews with Lucy Alexander (opens in new tab) - the mother of Felix Alexander, 17 - and Nicola Harteveld (opens in new tab) - the mother of 14-year-old Megan Evans - who shared the tragic stories of how their children committed suicide after being bullied on the show.
After the emotional accounts, the presenters continue: 'Together we can stop such heartbreaking stories being told. Head to the This Morning website to download our Be Kind teachers pack. Please, be kind.'
Holly took to her Instagram account, where she's followed by 2.5 million people, to share the powerful message and urge her fans to get involved and spread the message.
Captioning the video, she wrote: 'Please share this with as many people as you can, together we can make a difference. Let's put a stop to bullying... Super proud of @thismorning and our #bekind campaign... download the pack and use it at home or take it to your child's teacher to be used in school... thank you x.'
As part of the campaign, a variety of resources for primary and secondary schools were created in partnership with the charity The Diana Award Anti-Bullying Campaign - including posters, activity ideas and advice sheets to raise awareness about bullying - and will made available to download on their website (opens in new tab).
Holly's followers were quick to praise the 36-year-old for her involvement with the campaign, with many saying social media has made bullying even harder to beat.
'Such a worthy campaign and so utterly devastating the tragic consequences of such (quite often) mindlessness. If only everyone was just a little kinder to each other how much nicer the world would be 😔', one commented.
A second wrote: '@hollywilloughby breaks my heart. I always think about how hard my life would have been if social media had been around when I was a teenager. I now fear for my children.x'
Another user commented to say schools aren't doing enough to beat bullying: 'My daughter was bullied and school don't do enough to I hope something comes from this school need to step up...'
Some people even shared their own personal stories, explaining how their experience with bullying at school scarred them for life.
One wrote: 'Throughout my time at school I was bullied. I received threatening calls at home telling me if I went to school the next day they'd kill me. I never let them know they were affecting me but to this day I still struggle with anxiety and social situations.
'Particularly with making friends as it was girls who were initially my friends that bullied me. Now I work in a school and I try every day to make sure that kids never have to feel like I did about walking through the gates to school. People, give schools a break. They're doing the best they can but bullies are sneaky and underhand; with the increase of social media and mobile phones it's an almost impossible task to police. Everyone has a responsibility to try and stamp this out, it's not solely the school's problem.'