'He fought so hard' Jaime King opens up about her son's serious heart condition in heartbreaking post
She welcomed baby Leo in 2015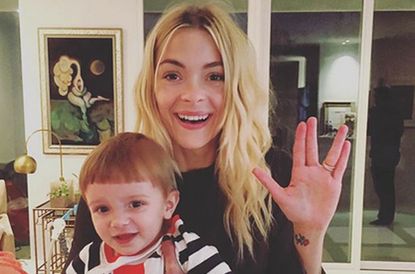 Jaime King has opened up about the scary health battle her second child - baby son Leo - faced when he was born with a serious heart condition.
The American actress welcomed her son Leo nearly three years ago, and now she's opened up about the health battle he had to face as soon as he entered the world.
In an honest Instagram post, the mum explained how her son was diagnosed with Transposition of the Great Arteries - a 'complex' heart issue' - at 22 weeks pregnant, which meant he had to have open heart surgery as soon as he was born in order to survive.
Alongside a picture of her, her husband Kyle Newman, and Leo at the hospital, she wrote: 'It's #chdawareness month so I thought we should share our story of the birth and journey of Leo Thames. At 22 weeks pregnant he was diagnosed with Transposition of the Great Arteries. A perilous and complex congenital heart issue. We were told he had to have open heart surgery for him to survive. We are lucky that they now have this surgery as not so long ago he would not have had a chance.
The mum-of-two continued to explain her son, whose godmother is pop star Taylor Swift, thankfully recovered and is now 'perfectly healthy'.
'As it's a traumatic yet beautiful story I will share only these details. He is alive and well because he is strong as a lion. He fought so hard and spent his every newborn day for weeks in the ICU. Because we have the means to have the most brilliant doctors and healthcare - Dr. Randy Harris, Dr. Allistar Phillips, everyone at the Cedars Sinai congenital heart program - the will and faith of our own souls - the strength of a healthy marriage - friends and family that were there every step of the way we made it through.
'I took a long time to feel safe and balanced after this fight. He is a perfectly healthy and radiant 2 and a half year old child. As if nothing ever happened. So many families and children do not have this. We must fight for them and their health care so that they will have the God given right to a healthy and happy future. Thank you. 💜❤️💜❤️💜'
Jaime's candid post was received with a lot of support from her fans, who praised her for sharing her story.
One said: 'What a beautiful story. I'm glad your baby is healthy. I bet this journey made your marriage even stronger.'
Another commented: 'Im proud of him and proud of your family xx keep fighting the good fight xx'
Jaime had previously opened up about her struggles with fertility, which led to her having 'countless miscarriages'.
She told Galore magazine: 'A big shift in me happened when I was diagnosed with endometriosis and poly-cystic ovary syndrome, which are very painful reproductive illnesses. I also had countless miscarriages and almost lost my children.'