'It's just a nightmare' James Corden jokes about the struggle of having three kids
James Corden has shared his candid thoughts on family dinners out...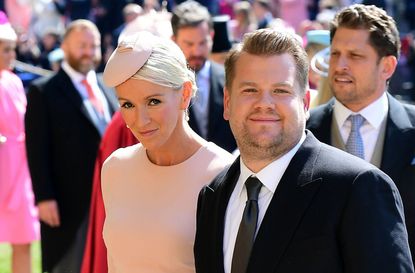 James Corden is a proud father of three but in a candid interview he reveals it can be testing at times.
The television host and his wife Julia Carey welcomed their third child, six-month-old Charlotte in December last year.
James and Julia also have another daughter, three-year-old Carey and a seven-year-old son called Max.
In an interview with People, James has revealed that some things are not worth the hassle when you're a family of five – like trying to go to a restaurant for dinner. How many parents can relate to that?!
James explained: 'It's just a nightmare. I got back from Liverpool on Sunday, and we thought, "Let's take the kids out. Let's go for lunch." I mean, it's a joke. We actually went to a place at the end of our road for lunch, and we looked like we were fleeing the country. We had that much stuff. It's absurd.'
The father-of-three joked about needing a stroller, endless supplies of baby wipes, cream and the list goes on.
James and Julia married in 2012 and choose to keep their children out of the spotlight
James continued: 'You're asking for the check before you've sat down. You're just shovelling pasta and butter into one of their mouths as you're trying to eat yours. You have to leave a huge tip, because the place is covered in crayons. And it's just not worth it.'
However, James added that he wouldn't change it for the world and that becoming a father is one of the best things he has ever experienced.
Speaking about how you change as a parent with each child you welcome, James joked that you are far more relaxed after your first.
He said: 'Your first child, you're like, 'Oh! He coughed. Is he okay? Oh my God. Google it! Google the cough...
'Your third one, you're like, "Get on the train, 'cause we already left. There's two others. What did she do, cough? Yeah, she'll be fine."'
We hear you James, we hear you!
James Corden's last episode on The Late Late Show is in April 2023, after eight years on the show.
Jessica currently works as a Senior Food Writer at Future. She writes food and drink-related news stories and features, curates product pages, tests, and reviews equipment, and also develops recipes that she styles on food shoots. An enthusiastic, self-taught cook Jess adores eating out and sharing great food and drink with friends and family. She has completed the Level 1 Associate course at the Academy of Cheese and is continually building on her knowledge of beers, wines, and spirits.